How to Make a Bathroom Wheelchair Accessible
Posted on by Chris Frombach
As a loved one ages, they may require a wheelchair in order to navigate around their home. Unfortunately, with the vast majority of elderly people living in older, more traditional homes as opposed to open floor plan designs, maneuverability with a wheelchair can be very difficult. This is especially true of bathrooms; small footprints, corners, vanities, large tubs, and other storage items make moving around the bathroom challenging. While moving a sink or toilet may not be a viable option, there are many bath safty solutions that can make this space more user-friendly and safe for an aging loved one using a wheelchair.
Review the Environment
Look around at the bathroom for better use of space. What can be moved and placed elsewhere? Remove any items from the floor that may prevent maneuverability. Look up to see if there's underutilization of space on the walls, above the toilet, behind the door, etc. Placing a free standing cabinet low over the toilet or moving a medicine cabinet to a more easily accessible location may make obtaining items from them much easier from wheelchair height.

Install a Barrier-Free Shower
Roll-in showers can offer enhanced independence and safety, especially in older homes.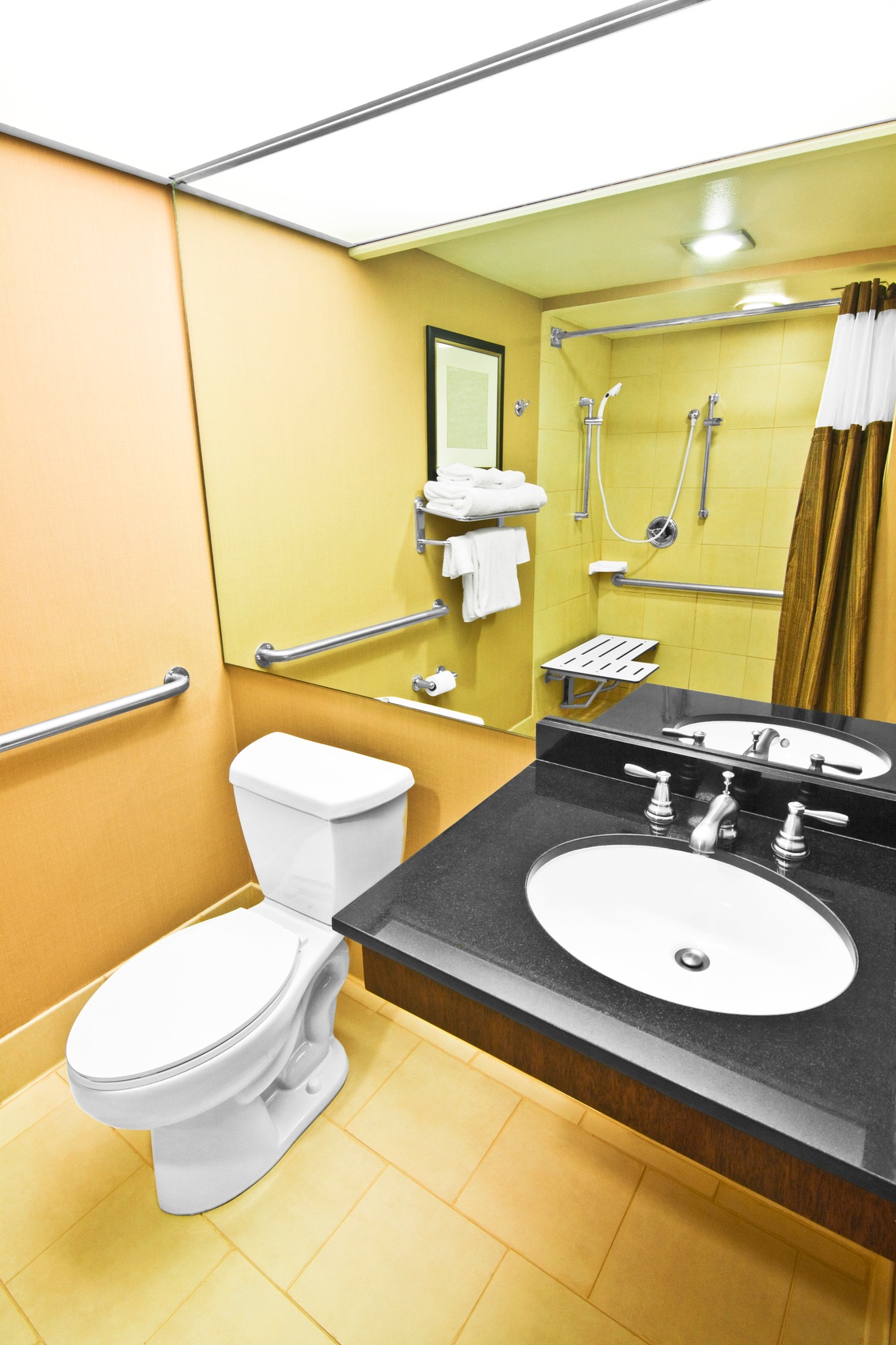 They allow users to roll into a shower unit without having to step over a dangerous tub, allowing a loved one to use a shower chair or wheelchair. Most are designed with universal design in mind, meaning that they are made to appeal to a variety of ages and physical abilities. Multiple shapes and sizes are available and most can be installed easily in a couple of days.
Watch Out for Thresholds
Many older homes have thresholds that are not conducive to rolling over with a wheelchair. Consider removing the threshold altogether if it's taller than about ½", or adding a threshold ramp if shorter. Metal is preferred for ease of mobility, but rubber can be used as well.
Assess Sink & Vanity Accessibility
Remove vanity-style sinks in the bathroom, as these can be difficult to use in a wheelchair. The sink should be mounted on the wall without a cabinet underneath. This allows for enough clearance to roll a wheelchair right up to the edge of the sink, even with leg rests on. Single-handle faucets are also helpful because they can be easily turned on and adjusted without having to grab or twist the knobs.
---
As elderly people rely more on wheelchairs to safely navigate their homes, we need to make sure that their environments match this need. In order to increase maneuverability in the bathroom, there are a number of easy, afforable updates that can be made. In an effort to promote universal design, the end goal is to create a home environment that's safe and accessible for all ages and abilities. These simple updates can better accommodate wheelchair users without sacrificing style or aesthetics.
Interested in a free home evaluation to ensure that your loved one's bathroom is safe and accessible?
---
---
---
Improve your mobility. Request a free home assessment today!