How Can I Make my Bathroom Safer?
Posted on by John Burfield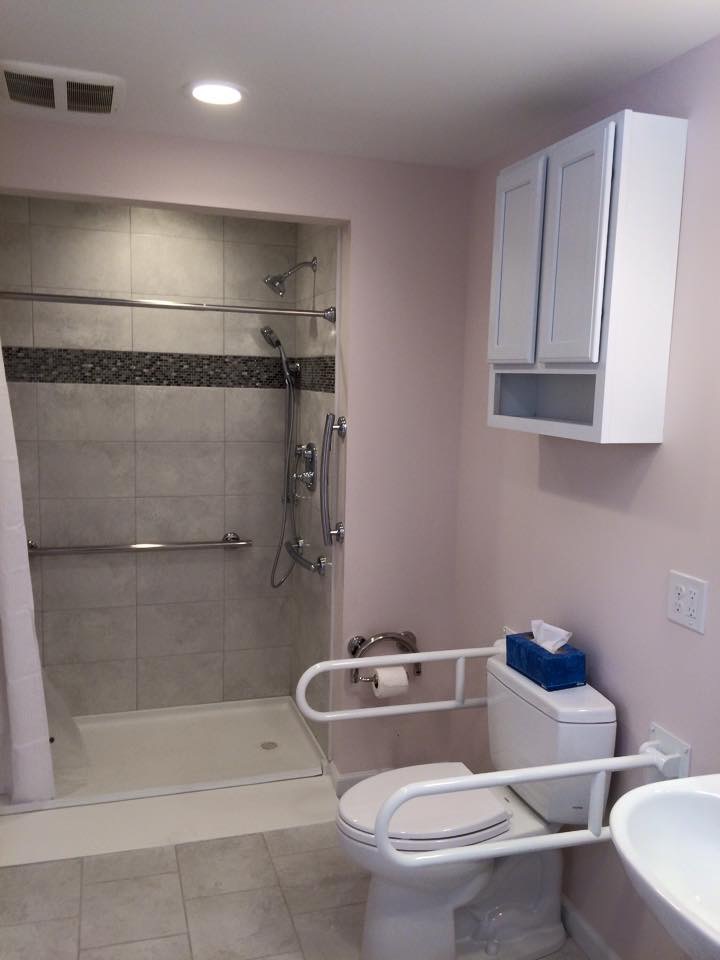 As we age, simple tasks such as taking a shower can become a challenge. Bathrooms can be especially risky for those with limited mobility due to slick surfaces and the movements required for bathing and toileting. The National Safety Council estimates that each year, over 200,000 people are injured in their bathrooms. These injuries are mostly due to falls and many of them are preventable.
Fortunately, there are steps you can take to help avoid the dangers encountered in the bathroom. Some options are inexpensive while others can be costly, but well worth it for the safety they provide.
Lighting
Proper lighting is essential to making any bathroom safer. Make sure that all light fixtures are equipped with the highest allowable wattage to maximize brightness. If the lighting in your bathroom is limited you may want to consider having an extra fixture installed. An automatic night-light is also helpful for nighttime trips to the bathroom.
Flooring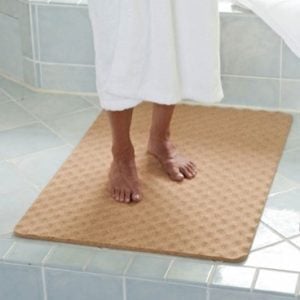 A quick and easy solution is to use non-slip bath mats that have significant absorbency. This will minimize the risk of the mat slipping and the amount of bathwater that reaches the floor.
Ideally, the bathroom floor will have slip-resistant rubber or vinyl tiles. However, if your bathroom floor has ceramic tiles, make sure they are smaller tiles that are non-glossy. A smaller tile will increase the number of grout lines which can help with traction.
Grab Bars
Grab bars are a simple way to make any bathroom safer for people of all ages. They can be mounted in or around a shower/bathtub as well as near the toilet to provide a stable grip to help prevent a fall.
Grab bars come in various sizes and finishes to match any décor and are available at most home improvement stores. But make sure that your grab bars are mounted properly. It is always a good idea to have them installed by a qualified contractor, preferably with experience in accessible remodeling.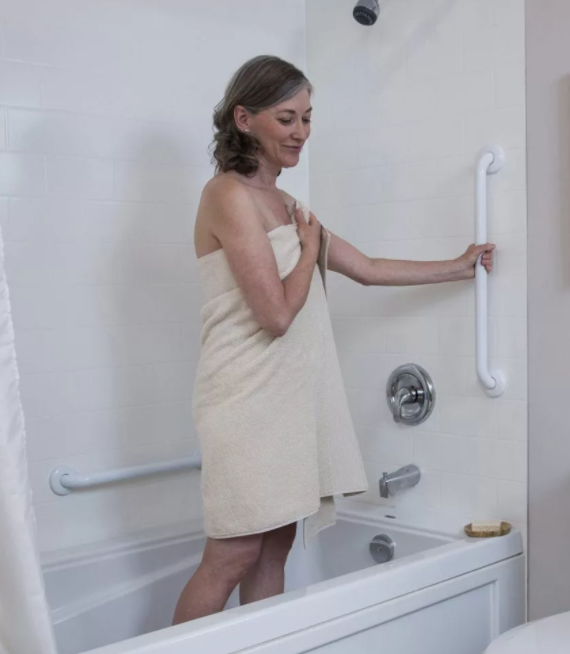 Toilet
For people with mobility issues, sitting on a standard height toilet (approximately 14" to 16" high) can be difficult. Installing an elevated toilet seat or an ADA compliant toilet will raise the height by approximately 3 to 4 inches. Elevating the toilet along with installing grab bars or side rails can make it much easier and safer to use.
Showers and Bathtubs
A low-cost solution for shower and bath fall prevention is to affix a rubber non-slip mat or non-slip adhesive strips to the shower or tub floor. These will help limit the potential for slipping while bathing or when entering or exiting the tub.
A shower chair or bench allows the user to sit while showering or during activities such as shaving their legs. When coupled with an adjustable handheld showerhead, it can make a standard shower much safer by eliminating the need to stand and the ability to control the flow of water from a seated position.
If you prefer to bathe but have difficulty lowering yourself into a traditional step-in tub, a mechanical bath lift may also be an option. These units sit in your bathtub and work by lowering or raising the user with a touch of a handheld control.
If you have difficulty stepping into a standard bathtub or shower, having a barrier-free shower or walk-in bathtub installed might be the right solution. While these options can be expensive, they are very effective at making your shower or tub safe.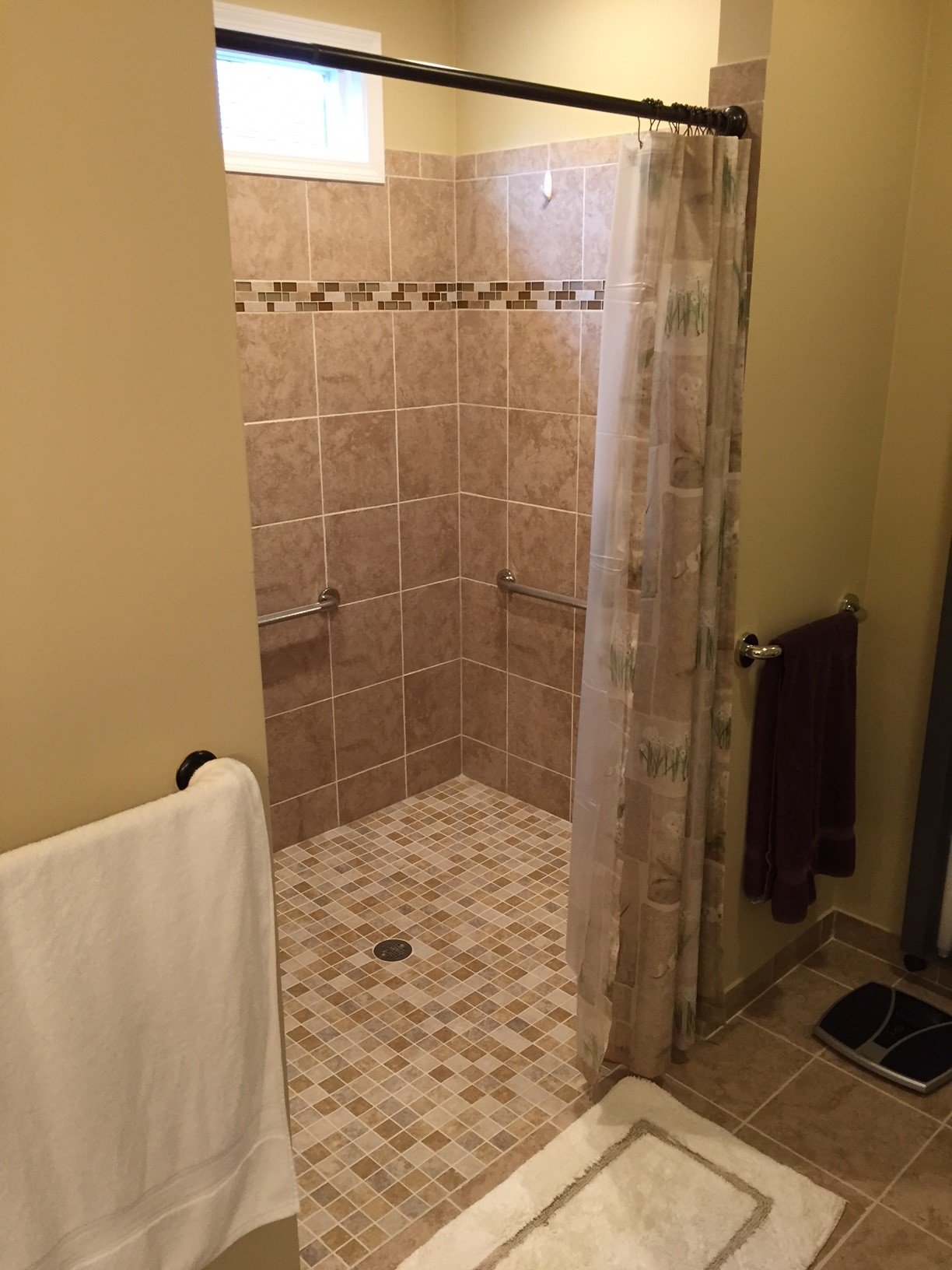 To learn more about accessible shower systems click here.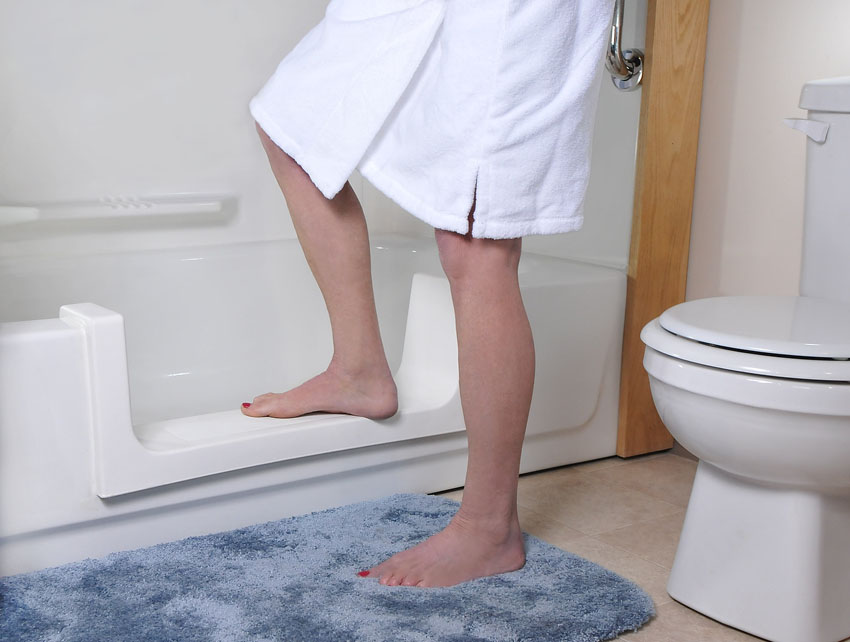 If a barrier-free shower or walk-in bathtub is out of your budget, a less expensive option is a bathtub cut-out. With a tub-cut, a portion of the sidewall of your standard bathtub is removed and covered with a composite insert cap. This lowers the step-in height of your bathtub to approximately 6 inches, making it easier to enter and exit. A standard shower curtain allows a user to take shower and optional water tight doors are also available for those who would prefer a bath.
Click here to learn more about walk-in tubs and tub cut-outs.
---
---
---
Improve your mobility. Request a free home assessment today!