Accessible Showers: Tub Cut vs Barrier-free Shower
Posted on by John Burfield
If you have difficulty stepping into your traditional bathtub/shower, it may be time to consider converting your tub into a walk-in shower. While remodeling your bathroom to include a zero-threshold shower (also known as barrier-free, curbless, or roll-in shower) may be out of your budget, there is a lower cost option that can help make your existing tub accessible again. This option is known as a tub cut or tub cut-out and might be the right solution for you. However, depending on the extent of your mobility issues, a fully accessible, barrier-free shower may be the better option.
Let's take a closer look at these two solutions.
Tub Cut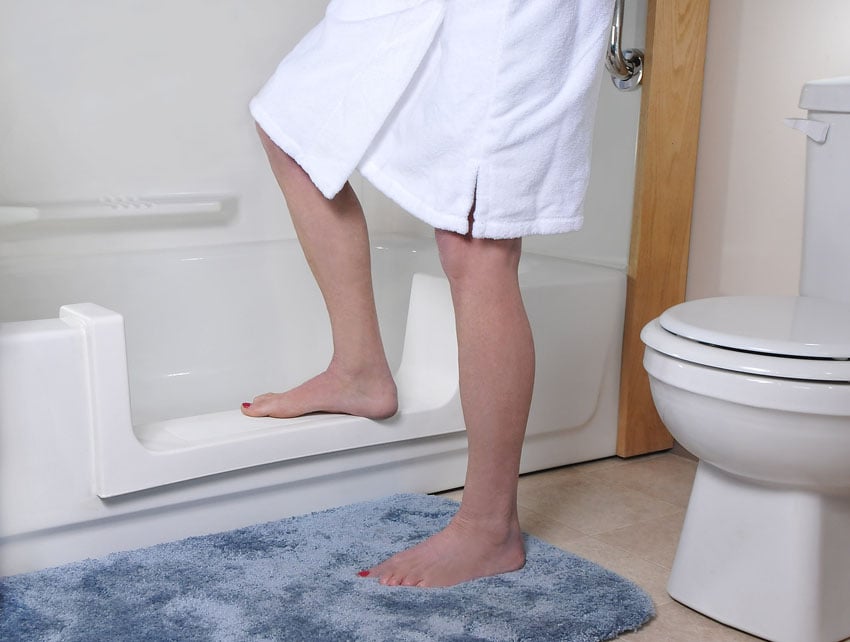 A tub cut is a cut-out in the sidewall of your existing bathtub. This reduces the height that a user must step over to enter the tub. After the section of tub wall is removed, a composite insert cap is placed over the cut-out creating quick and easy access to the bathtub. An approximate 6 to 6 1/2 inch curb will remain to keep water inside the tub when used with a standard shower curtain.
A tub cut is ideal for users who can step over the remaining curb, however many wheelchair users with upper body strength can also transfer from a wheelchair to shower bench through the cut-out. It is important to keep in mind that this may be a tempoorray solutiion if your mobility issues progress.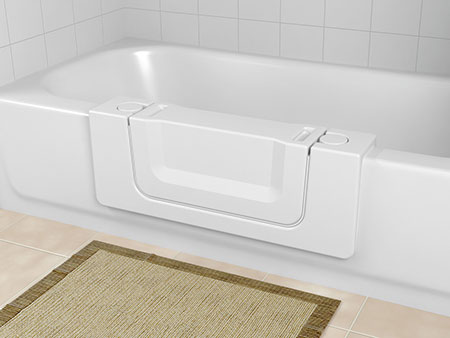 Optional doors are also available to allow users to fill the tub with water if they wish to bathe. Tub cuts are an economical option with a typical starting price of $995 installed and $1,495 for a cut out with a watertight door. Tub cuts are also a quick process with most cut-outs completed in one-day. This solution can be beneficial for those who are on a budget or need their project completed as soon as possible.
Zero-Threshold or Barrier-free Shower
For those with a larger budget or who qualify for a third-party funding source, a zero-threshold shower may be a better option. This type of shower will require a significant modification duirng which your current bathtub will be removed and replaced either with a prefabricated fiberglass shower unit or a zero-threshold shower pan with tiled floor and walls. Your options will depend on your budget and the layout of your bathroom—most manufacturers have various sizes of shower available.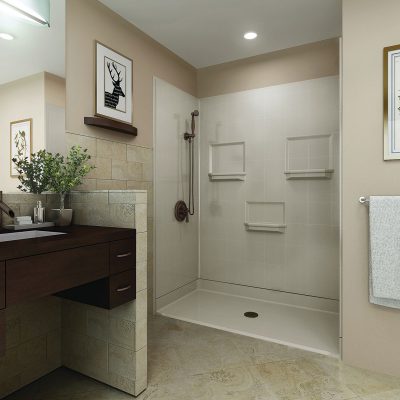 The primary advantage to this option is that the shower threshold can be eliminated completely so that the user does not need to step over a curb to enter the shower. Wheelchair users can be rolled into the shower and transfer to a shower bench or utilize a waterproof shower chair. Basically, this style of walk-in shower can be used by any type of user with varying physical abilities.
As mentioned earlier, this a significant modiciaction that will typically require permits and more time to complete (1 week) than a tub cut. The longer timeframe is needed for the removal of the old tub and installation of the new walk-in shower. Occasionally, tradespeople such as a plumber will need to be utilized which contributes to the longer timeline. This option is also more expensive. You can expect to spend between $6,500 to $9,500 depending on the style and size of the barrier-free shower that you choose.
Key Takeaways
Tub cuts are an economical solution for those having difficulty accessing their standard bathtub/shower. They typically start at around $995 with installation
With a tub cut, there will still be a 6 to 6 1/2 inch curb that the user will need to step over to access the shower
Tub cuts with optional doors are available for those who prefer to bathe
Tub cuts can typically be completed in one day
Zero-threshold or barrier-free showers eliminate the shower curb completely so they can be used by people of all physical abilities
Barrier-free means that a wheelchair user can roll into the shower without any type of threshold ramp
Zero-threshold showers require a significant modification that can take up to a week to complete and will cost between $6,500 and $9,500
A zero-threshold shower is a more complete solution than a tub cut out that will meet your needs as they progress
To schedule a free consultation, contact Lifeway Mobility today.
---
---
---
Improve your mobility. Request a free home assessment today!