Grab Bars for Bathrooms & In-Home Safety for Older Adults
Posted on by Eric Rubel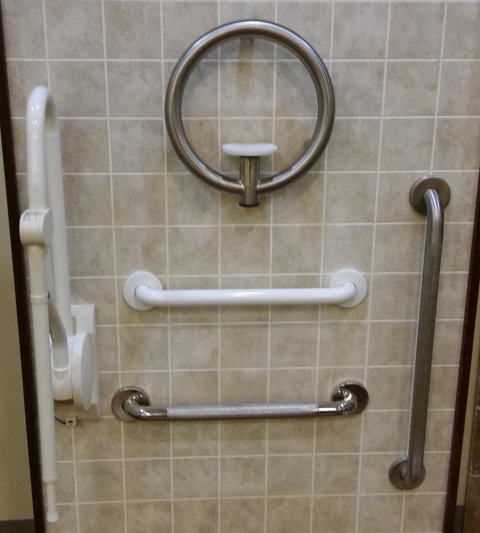 For seniors and those with limited mobility, grab bars can be a lifesaver. There are many types of grab bars that can be added throughout different rooms in a home to provide stability for people who have trouble walking.
The bathroom is often the room that makes the most sense for the installation of a grab bar because it is the most dangerous room in a house for seniors or those with limited mobility. In fact, falls in the bathroom due to a wet, slippery floor is one of the top causes of injuries for elderly men and women. Whether it's the barrier that makes it difficult to get in and out of a tub or shower or a toilet that is tough to get off of, the bathroom definitely presents its challenges.
Lifeway typically only installs grab bars as part of a bathroom modification such as a roll-in shower, or at the top or bottom of the stairs when a stair lift is installed. We also even install different types of bars in a bedroom or kitchen as part of a home modification.
In this post, we will overview the different types of grab bars that are most commonly added to increase safety and reduce the risk of an injury due to a fall.
Straight Wall Mount Bars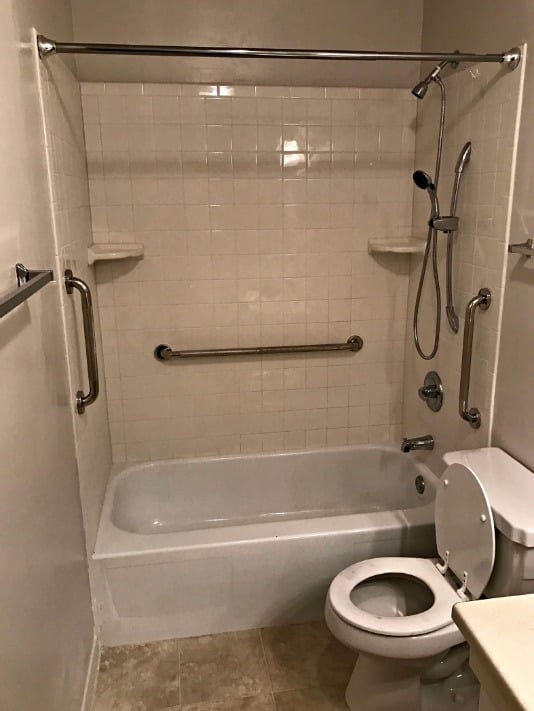 These types of grab bars are the ones that you most often see in bathrooms in homes and also public bathrooms. They are easily mounted to the wall and come in a number of different sizes (18"-36") and colors. The ones that are most common are polished stainless steel and satin stainless steel.
A straight grab bar is perfect for beside a toilet, and inside of a bathtub or shower. They can also be added near an entrance that has a large step to provide another an "extra hand" when going up or down the step. These types of bars can be installed horizontally, vertically, and even diagonally. Below are some pros and cons of each direction:
Horizontal:
Pros:
Allows for safe movements in a shower or tub
Great for wheelchair users when entering a tub or shower
The longer the bar, the more horizontal coverage it provides along the wall
Cons:
Tough on the wrists for people who have arthritis
Limited vertical coverage
Not as easy to use for support when getting up from a seated position, when compared to an angled installation
Vertical:
Pros:
Perfect for someone who needs assistance when stepping over a tub or shower barrier
Easy to grip when sitting or standing
Provides stability when lowering to sit down on a tub or shower bench
Cons:
"Less bar" to grab on horizontally, thus making it difficult to move around in a shower or tub
Does not provide leverage to push down on the bar when trying to stand up from a seated position
Diagonal:
Pros:
Perfect for someone who will be using a shower chair or bench – provides an easier transition from sitting to standing and vice versa
Works for people of all different heights – great if more than one person will be using the grab bars
Puts your hands and wrists in a more natural position, which means less strain on the wrists
Cons:
Only helps when facing one direction in the tub
The direction of installation will depend on your specific mobility needs. When assessing a bathroom, a sales consultant can help you determine the direction that the grab bar should be installed.
Superpole
A Superpole can be installed just about anywhere in a home where support may be needed. It is a floor-to-ceiling pole that is most often used to provide vertical support in the bathroom and bedroom. Most people use it for assistance when getting in and out of bed, on/off the toilet, and in/out of the tub or shower.
The Superpole has a clean, modern design and comes with a grip that provides a comfortable surface to grab onto. When installed, it typically does not require any drilling of holes into the floor or ceiling. A jackscrew is turned to create pressure, which allows the pole to support the person using it. The weight capacity of the pole will depend on the model selected. The standard model has a 300 lb. weight capacity and the heavy-duty model has a 400 lb. weight capacity.
If horizontal support is needed, you may choose to add the Superbar option. Like the Superpole, the Superbar has a 300lb or 450lb weight capacity and can be pushed, pulled, or leaned on for support.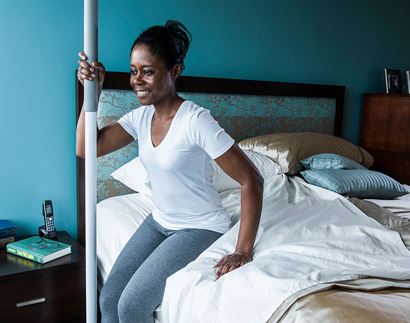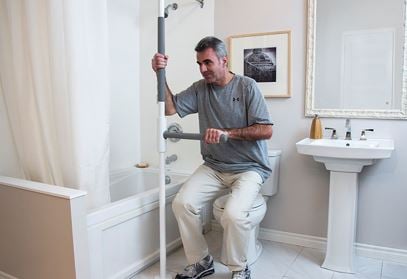 Linido Bar
A linido is a portable type of grab bar that can be installed on the floor or on a wall. They are most often installed near the toilet, providing sturdy support when getting on/off it. (Wrist strain can be reduced by grabbing the lower bar/rail)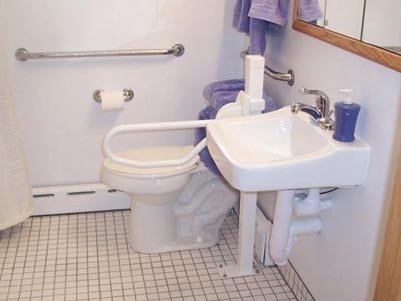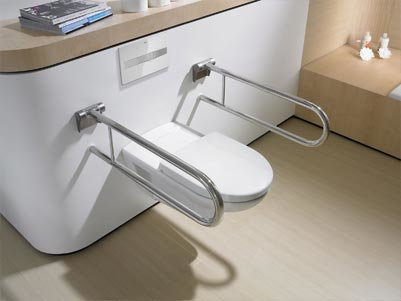 Soap Dish Grab Bar
As the name implies, it provides two functions: The most important one is that it provides another bar to hold onto while grabbing a bottle of shampoo or bar of soap. The other is that it provides a convenient way to store a bar of soap as it is installed around the shower faucet. Like the straight style bars, the soap dish grab bar is stainless steel and is mounted on the wall.
Grab Bar with Shelf
This type of bar is very similar to the soap dish bar as described above. It provides another helping hand and allows you to put a bottle of shampoo or bar of soap on top of it it. The main difference is the location of the installation. The grab bar with a shelf is going to be installed in the corner to the left or right of the shower head/faucet in a shower or tub. That way you can remain standing under the water and be able to easily grab a bottle of shampoo at the same time.
Slide Grab Bar
This comes as part of a handheld shower, which is often used for roll-in showers. A slide grab bar provides the following benefits:
Adjustable Height: Like the standard straight wall grab bars, slide bars can be installed vertically, horizontally, and diagonally. The bar can be easily adjusted so that the water can reach every part of the body.
Easy to Use for Disabled Persons: A shower slide bar makes it much easier for those who are disabled to take a shower. The bar allows for the showerhead to be adjusted so that they can easily shower without needing to stand up. It is important to note that most slide bars meet the ADA requirements.
Extra Safety Tip: Another product that enhances safety when getting in and out of the shower is a non-slip mat. These types of mats make it easier and safer to get in and out of the tub or shower.
For more information on bathroom and in-home safety, we encourage you to take a look at the Lifeway Mobility infographic that highlights safety tips for seniors.
Additional Resources
---
---