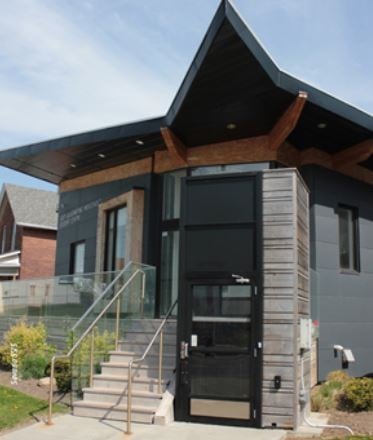 Outdoor Wheelchair Lifts
Savaria V-1504 Outdoor Vertical Platform Lift
The V-1504 lift is built to carry a wheelchair and passenger safely up and down one or more levels. Suitable for public and commercial buildings as well as private homes, this Savaria™ lift features an extremely versatile design that can be configured and customized to suit virtually any project requirements and aesthetic needs.
From the rugged outdoors to the most luxurious office tower lobbies, the Savaria V-1504 lift is ready to serve with its reliable performance, ease of use and range of finish options.
Every Savaria V-1504 model is driven by a reliable hydraulic system and can be configured for your needs. The lift travels up and down a rail system enclosed in the lift tower. The tower is supported with attachment to an existing wall or through a constructed hoistway. Because the drive system is contained within the lift tower, no additional machine room is required for installation.
Models
Standard (V-1504 STD)
Ideal for basic commercial applications and home use. This lift can be used indoors and outdoors to travel a standard 48? with 2 stops or optionally more distance and stops. The standard unit can be custom enclosed on site by your local installer. Popular for use in schools, places of worship and other public spaces, the standard model can be outfitted with a range of options to suit the installation need.
Aluminum/Acrylic Model (V-1504 ALPE)
This enclosed model uses aluminum and acrylic inserts and top dome with corrosion-resistant steel components, making it ideal for outdoor applications. Optionally, this model can be ordered with tempered or laminated glass panels. The active ventilation system keeps the inside comfortable and the gates and door can be motorized.
Luxury Framed (V-1504 Lux)
Framed in brushed stainless steel with tempered or laminated glass inserts, this lift is a beautiful complement for lobby areas, offices and public buildings.
Prestige Frameless (V-1504 Prestige)
With half-inch structural tempered glass and no visible frame, this lift is the ultimate statement for creating barrier-free access in commercial applications.
Features
Lifting capacity: 750 lbs
Lifting height: 23", subject to the local code, in some areas 12″ to 14″
Flexible design and feature options: Can be built to suit virtually any home or commercial project from basic to the ultimate in luxury.
Quiet and reliable hydraulic drive: Smooth start, stop and overall ride that works dependably.
Machine roomless: Enclosed drive system means no machine room is required, making the installation process easier.
Other standard features: Large ADA-compliant platform, continuous pressure button operation, modular rail construction for easy construction, handrail, automatic battery recharging system.
Standard finishes: Beige powder-coat paint.
Safety features: Emergency stop button on car, underpan obstruction sensors, non-skid platform, manual lowering device, 42 1/8″ side panels, keyed car buttons and keyed call stations, safety brake, door locks, platform gate.
Options
Larger platform sizes
Up to 4 stops
Commercial package including alarm
Auto fold-up ramp
Keyless operation
Keyed or keyless hall call (subject to type of application)
Low profile aluminum doors
Steel ULC fire rated doors
Wooden door on frame
Power gate and door operators
Tempered glass inserts for doors
Acrylic inserts for gate
GAL or Savaria WR-500 weather resistant lock
Folding seat
60 mm buttons
ADA hands-free phone
The unit can be ordered with a 12-volt DC power supply for residential applications
Downloads
Photo Credit: Savaria
---
Gallery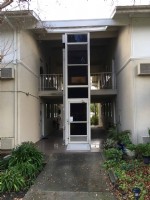 ---