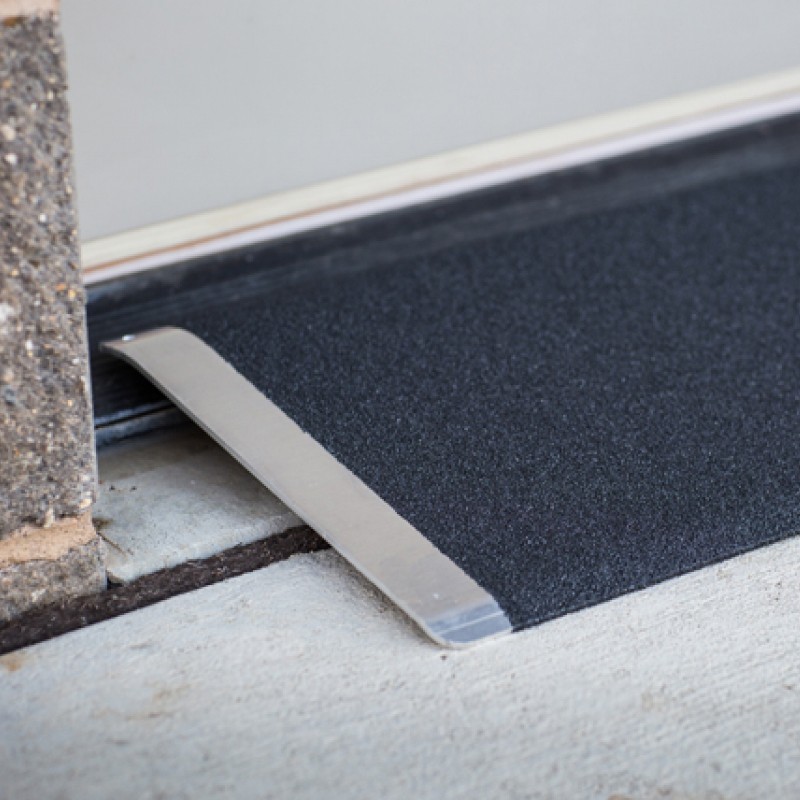 Threshold Ramps
Angled Entry Plate
The Angled Entry Plate is a portable stand-alone threshold plate with a slip-resistant surface which offers superior traction in varying conditions. This single-piece, formed aluminum plate helps to eliminate trip hazards and accommodates most mobility devices.
Features:
Slip-Resistant Surface: Features a superior applied tread for high traction.
Multiple Lengths: Available in 8", 10", and 12" lengths, making it a suitable solution for most doorways.
High-Strength Aluminum: Formed from high-strength aluminum which will not rust or corrode over time.
Specifications
Use this chart to compare and contrast the features of the angled entry plate in different lengths.
| Specifications | 8" | 10" | 12" |
| --- | --- | --- | --- |
| Overall dimensions (L x W) | 8 x 32" | 10 x 32" | 12 x 32" |
| Slip-resistant surface | | | |
| Height (Plate only) | 0.695" | 0.695" | 0.695" |
| Usable height | Up to 1.312" | Up to 1.625" | Up to 2" |
| Rated capacity | 700 lbs | 700 lbs | 700 lbs |
| Weight | 3.5 lbs | 4.25 lbs | 5 lbs |
| Pricing | $90 | $100 | $105 |
---