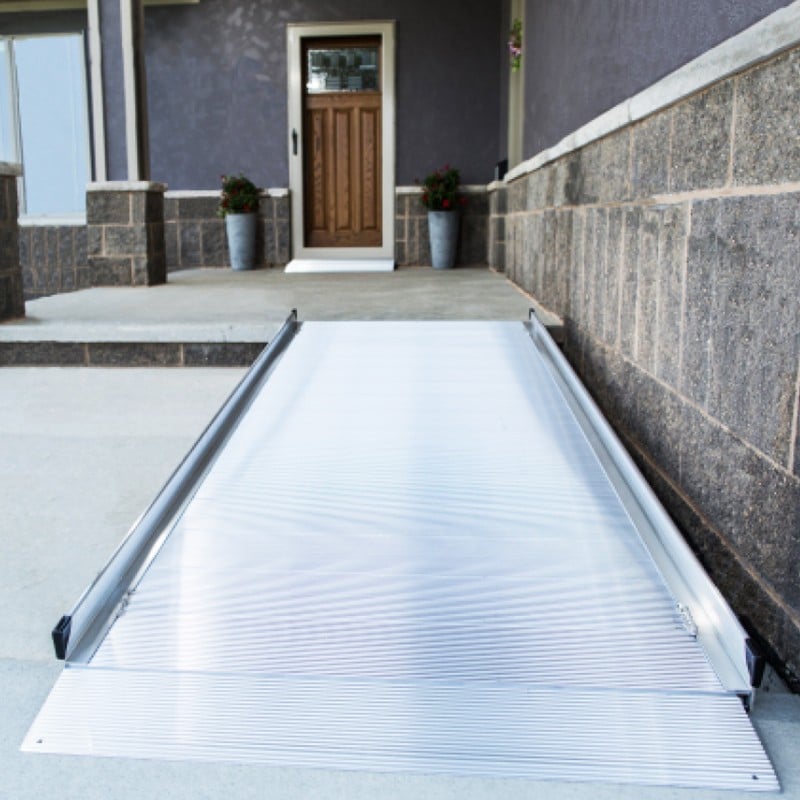 Portable Wheelchair Ramps
Solid Surface Portable Ramp, No Handrails
The 1-piece design of the Solid Surface Portable Ramp means no assembly or moveable parts; just set the ramp in the desired position, and it's ready to use. Made of durable aluminum, it will not rust, rot, or deteriorate from the outdoor elements – making this the perfect ramp to improve access to your home or business.
When mobility needs extend beyond the scope of a conventional portable ramp, the Solid Surface Portable Ramp is your answer.
Features
Lightweight, Heavy-Duty Aluminum: Means you don't have to worry about maintenance and ensures the ramp can be used in even the harshest of weather conditions. More durable than wood, allowing you to repeatedly use the ramp every day without worrying about deterioration.
No Assembly: The one-piece design means no assembly is required. All you have to do is set it in place and it's ready for use.
Slip-Resistant Surface: Designed with a permanent, extruded slip-resistant surface, the Solid Surface Portable Ramp makes sure that wheels don't lose traction, removing the worry of wheels slipping on the ramp.
Specifications
Use this chart to compare and contrast the features of the solid surface portable ramp in different lengths.
| Specifications | 3′ | 4′ | 5′ | 6′ |
| --- | --- | --- | --- | --- |
| Made of aluminum | | | | |
| Slip-resistant surface | | | | |
| Usable size (L x W x H) | 3′ x 36″ x 3.5″ | 4′ x 36″ x 3.5″ | 5′ x 36″ x 3.5″ | 6′ x 36″ x 3.5″ |
| Overall size (L x W x H) | 3′ x 37″ x 3.5″ | 4′ x 37″ x 3.5″ | 5′ x 37″ x 3.5″ | 6′ x 37″ x 3.5″ |
| Weight | 23 lbs | 30 lbs | 35 lbs | 42 lbs |
| Weight capacity | 850 lbs | 850 lbs | 850 lbs | 850 lbs |
| For wheelchairs & scooters | | | | |
| Usage guidelines (heights up to) | 4″ | 6″ | 7″ | 9″ |
| Price | $390 | $430 | $490 | $570 |
---