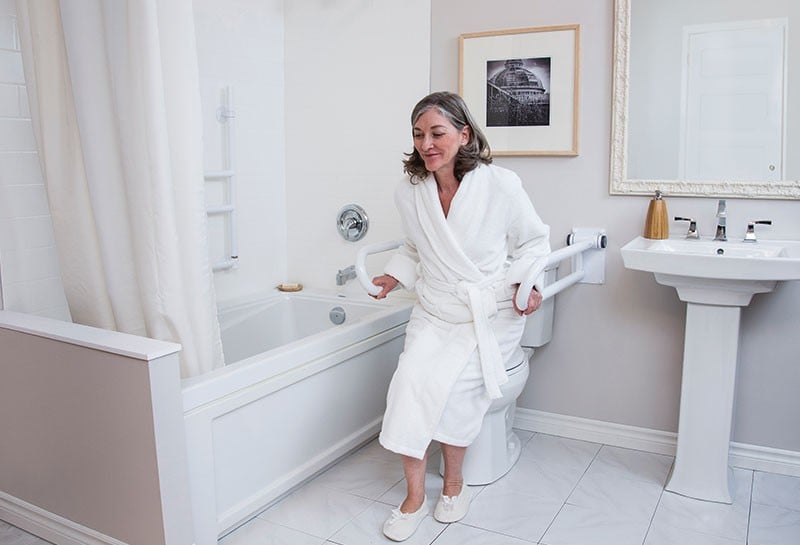 Grab Bars & Poles
Toilet Safety Rails
Lifeway offers wall and floor mounted toilet safety rails to provide support around the toilet for those with limited mobility. A sturdy rail featuring offset rails helps reduce wrist strain (when gripping the lower rail). When not in use, the toilet safety rail can be lifted up and stored flush against your bathroom wall.
Specifications
Rail Length: 28″ or 32″
Rail Diameter: 1.5″
Standard Material: Alloy steel
Standard Finish: Anti-microbial white powder coat
Other Material / Finish options: Chrome plated steel or brushed stainless steel
Weight Capacity: 400 lbs
Floor Mast Option
If fastening to the wall isn't an option, a floor mast can provide an alternative mounting structure to install a toilet safety rail. The rail is height-adjustable on the mast.
Angled Toilet Safety Rail Option
Provides additional support when going up and down two or three stairs. Like the Toilet Safety Rail, it mounts to the wall and can be lifted out of the way when not in use. It can also be adjusted between 0 and 35° to suit the angle of the stairs it's mounted beside.
Rail Length: 32″
Rail Diameter: 1.5″
Rail Angle Range: 0-35°
Material: Alloy steel
Finish: Anti-microbial white powder coat
Weight Capacity: 400 lbs
---