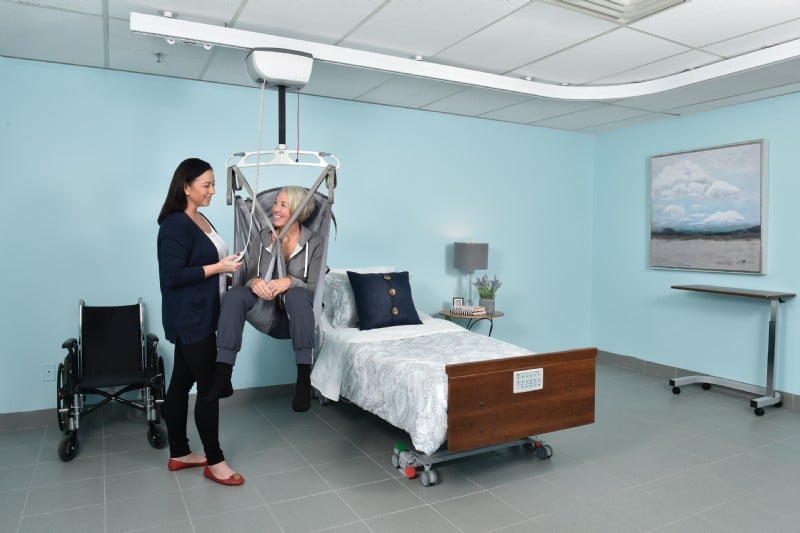 Ceiling Lifts
Savaria Ceiling Lifts
The Savaria fixed ceiling lift was designed to specifically to meet the needs of both patients and their caregivers. Best for long-term use, Savaria's fixed lift provides safe and easy transfers from room to room and to and from bathrooms. Built with a lithium-ion battery, the Savaria FL fixed ceiling lift is reliable and much more efficient than those that are built with the lead acid batteries.
Lithium-Ion Battery Power Advantages
50% more lift cycles per charge than industry average and less charging time
150% longer average battery lifespan when compared to lead acid battery powered lifts
Fewer battery replacements – 5-year battery life (estimated) with normal use
More reliable, limiting service calls to battery replacements, which lowers the cost of owning the lift
Eco-friendly – no lead acid disposal concerns
Power: faster lifting speeds even when lifting maximum weight capacity
Features
Best for long-term use
Durable and easy to use
Its lightweight design makes it easier and quicker to service. The lift can be fixed without removing it from the track and often without any tools
Customizable track gives you the ability to go where you need to in your home
Track can be integrated with major current and older brands such as Arjo, Handicare, Prism, etc.
Waterproof handset that is easy to clean and built for long life
"No-fray" lift strap prevents the strap from being twisted & worn out and eliminates having to replace the strap in the early life of the product
SureClip system opens outward to make it easy to push and prevention of a common misuse issue.
Accessories
Slings: A wide range of sling types and sizes is available to fit most. Built with three hooking options on all four attachments, Savaria's slings offer greater adjustability and customizability maximum comfort. Up to 600 lb. weight capacity
Track Turntable: Connects two crossing ceiling lift track together, which allows the lift to freely move between both track routes in a home, or assisted living facility
---