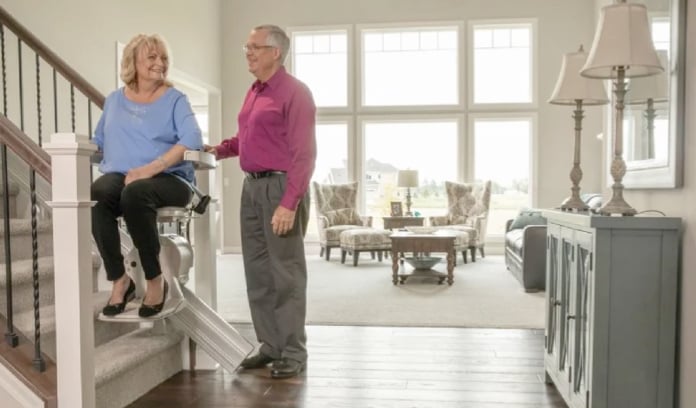 Stair Lift Resources
When your mobility changes, navigating the stairs can be a challenge—and your house may not feel like home anymore. Whether your stairs are indoors or out, curved or straight, with landings or without, there's a stairlift option that can give you back your independence and help you stay in the home you love. Learn more about the many available options, and what you can expect throughout the process.
Featured FAQs
What is a stair lift?
A stair lift is a motorized chair that travels along a rail that is mounted on a straight or curved staircase. It operates on battery power and uses a rack-pinion drive system to provide a safe and easy way to get up and down the stairs for those with limited mobility. A stair lift is also commonly referred to as a chair lift, stair chair lift, stairway lift, or stair glide. No modifications are required to the structure of the home for installation.
How much does a stair lift cost?
Stair lift costs vary depending on the type of staircase and its length, condition of the user and use of the chair (indoor or outdoor), and added options. Typically, the average price of straight stair lift ranges between $2,200-$8,000 (new or used stair lift). There are also monthly payment options available starting at $56.70/month, for those who qualify.
Curved stair lifts are custom made to fit your stairway, so prices will vary, but the starting cost for the most basic custom curved rail lift is $11,300.
For more information, see our guide on stair lift pricing. For an exact quote, please call us at (952) 808-3646.
How does a stair lift work?
A stair lift is a product that is very easy to operate for most people! A person can ride up or down the stairs by holding a button down or pushing a switch that is located on the armrest of the chair. As the user holds down the standard rocker switch or optional toggle switch, the chair lift smoothly travels up or down the stairs.
View All