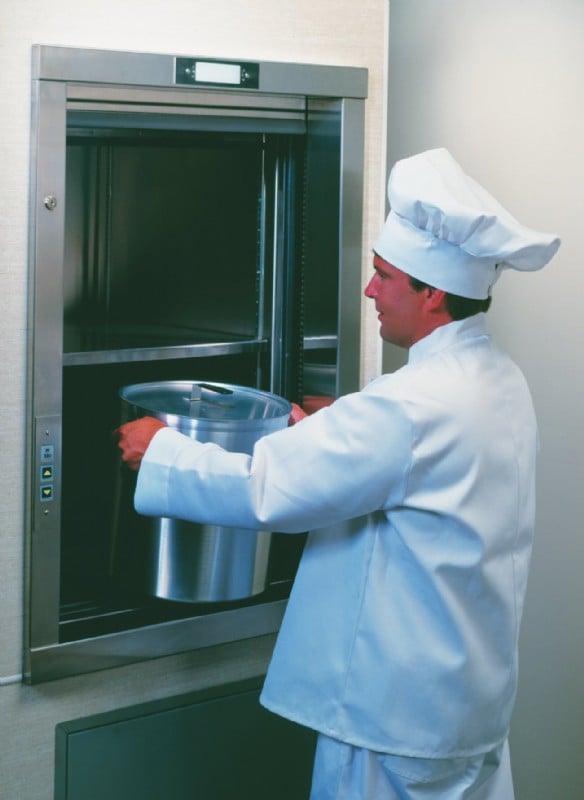 Dumbwaiters
Commercial Dumbwaiters
Lifeway offers commercial dumbwaiters that are designed for non-passenger vertical transportation applications. This dumbwaiter has the size and weight capacity for most tasks—lifting medical or legal records, prepared food, wheeled carts, firewood, groceries, laundry, and more.
Our commercial dumbwaiters are manufactured by Waupaca, which is located in Appleton, Wisconsin. Waupaca has been manufacturing dumbwaiters since 1957.
The Paca-Waiter, a commercial dumbwaiter for multi-floor businesses, brings safety and convenience to your facility and your employees. The Paca-Waiter is also ideal for homeowners who frequently need to move larger and heavier loads.
This versatile commercial dumbwaiter model is available with a net load capacity of 300 or 500 pounds.
Safety and convenience are the hallmarks of this unit, designed for multi-floor businesses.
The winding drum drive system and heavy-duty steel guide rails are designed for longevity and efficiency in commercial use.
A commercial dumbwaiter provides convenience for employees and reduces the risk of injury.
Available with commercial hoistway doors for enhanced safety and complete code compliance.
Suitable for applications including restaurants, retail stores, hotels, government buildings, educational facilities, and more.
Features
Travel up to 50 ft.
Robust 300 lb. or 500 lb. weight capacity
2-5 stops
Hoistway door interlocks
Vertical bi-parting car & landing gates
Dumbwaiter and door finishes:

Standard: Powder-coated steel
Optional: Stainless steel
Options
Car shelves
Car light
"Car here" indicator
"In use" indicator
Door open buzzer
Lantern and gong
Slide-up car gate
Door to access machine
---
Gallery
---
Improve your mobility with a dumbwaiter. Request a free home assessment today!