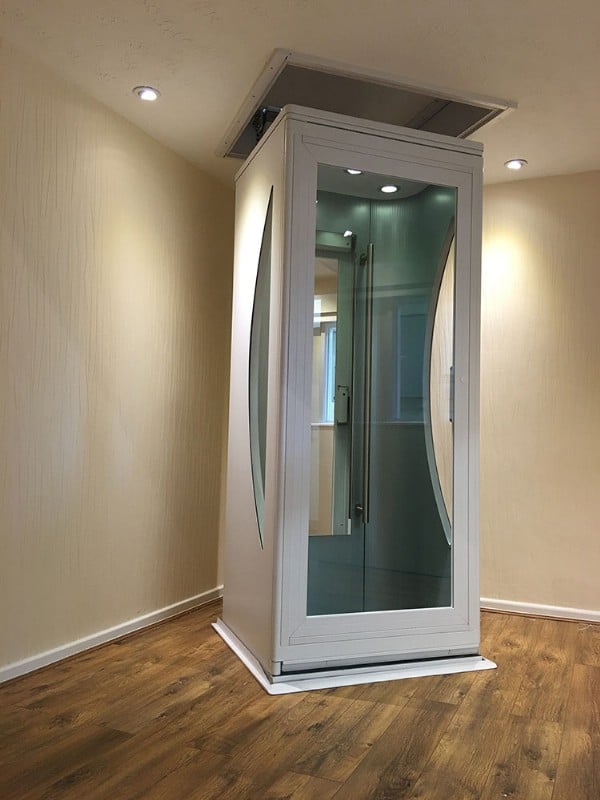 Through the Floor Home Elevators
Wessex Through-Floor Home Elevator
Sleek, stylish Wessex residential elevators are perfect for the two-story home where space is a concern. They can be installed virtually anywhere, while leaving your staircase free of obstruction and providing more usable space in your home. There are no footings or foundations required and it can be installed for a fraction of the cost of a traditional home elevator
Move easily between the floors of your home with a Wessex elevator. A smooth, quiet ride allows you to move about safely and independently, while also keeping your staircase free of obstructions for others living in the home. With compact sizes and free-standing models available, Wessex home elevators are the ultimate in convenience and a perfect solution for families with mixed levels of mobility.
An added bonus: Wessex elevators are elegantly designed, and come in a variety of styles, colors, and materials. These options mean your elevator can perfectly match the decor of your home – making them a stylish addition to the room, rather than its focal point.
With a full product line of Wessex lifts available, there's a model to meet your space requirements and your decor. Suitable for home and commercial use, Wessex lifts offer quality at an affordable price.
Features
Quick installation
Travels up to 11.6 feet
Free-standing design does not require a load bearing wall or a hoistway, allowing for a wider choice of elevator locations in the home and helping you save money on construction costs
Bright LED, timer-controlled lights are activated automatically by the operation of the elevator and shut off after a pre-set time
Emergency back-up systems operate the door, light and alarm, and lower the elevator to the floor in case of a power failure.
Audible two-tone alarm with battery back-up is fitted as standard for use in an emergency
Elevator safety edges feature will automatically stop the elevator if it is touched or obstructed.
Car door and elevator controls can be left or right handed to accommodate the user
Sensors built in platform to prevent operation if obstructed
Wireless landing controls can be installed on left or right side of elevator cab
Wall filler-panels are available to install behind the elevator track, if the elevator is located far from a wall
Tech Specs
| Specifications | Small | Standard | Large | Extra-Large |
| --- | --- | --- | --- | --- |
| Models | VE 15, VE 25 | VE 31, VE 51 | VE 36, VE 56 | VE 38, VE 58 |
| Dimensions (W x L) | 30 ½" x 23" | 28 9/16" x 45 ½" | 30 ½" x 47 7/16" | 34 13/16" x 54 ⅛" |
| Weight capacity | 550 lbs | 550 lbs | 550 lbs | 550 lbs |
| Hand rails | Standard | Available | Available | Available |
| Car-mounted fold-down seat option | Available | Available | Available | Available |
| Power car door option | Not Available | Available | Available | Available |
Options
Add an interior seat
Customizable interior color options
Upgradable interior lighting
Key switch call stations
Remote control
Power operated door
In-car telephone
---