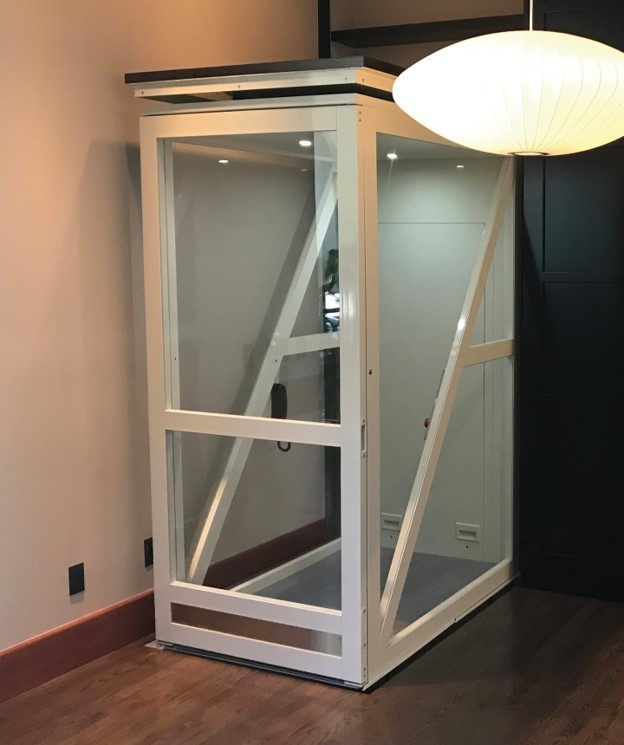 Through the Floor Home Elevators
Savaria Telecab Home Elevator
If you thought a home elevator was outside of your budget, think again. The Savaria Telecab is the quickest, easiest, and most economical way to add an elevator to your home. With the installation of a Telecab from Lifeway, you'll be able to regain safe access to an upstairs bedroom or basement living area "through-the-floor"!
The Savaria Telecab is a free-standing elevator model that travels through a floor cut-out in two-story homes. With no elevator hoistway required, construction costs are dramatically reduced – making this an affordable option for those looking to regain or keep their independence.
The Savaria Telecab's innovative "vanishing" design, which is virtually invisible when the elevator cab is not in the room, also means that it can be installed almost anywhere, even in homes with limited space.
Features
Sleek modern styling with clear window panels and white powder coat finish to blend in with your home décor
No hoistway or pit required, saving you money on construction
The enclosed drive tower keeps mechanical components safe and out of sight.
845 lb. weight capacity
Cab top sensor stops the unit from moving when pressure is detected
Constant pressure controls with keyless or keyed access on car and call stations
Left or right-hand opening door – hydraulic door closer
Safety Features
Emergency stop and alarm buttons
Battery lowering in case of power failure
Manual lowering in case of emergency
Underpan sensor to stop the elevator if it meets an obstruction
Interior lighting
Nonskid platform
Pressure relief valve to prevent platform overload
Options
Two available cab sizes
Optional battery power for up to 5 trips up & down, in case of power failure
Photo Credit: Savaria
---
Gallery
---