Top 5 Tips for Family Caregivers
Posted on by John Burfield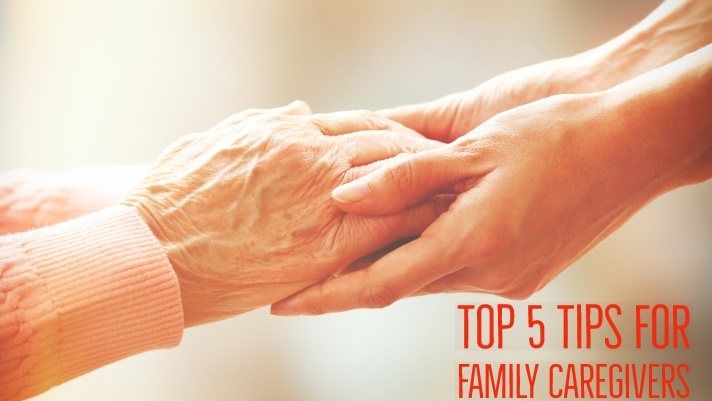 November is National Family Caregiver Month, and it is important to recognize and celebrate what these caregivers do to help others, often putting their own mental and physical well being at risk.
According to the National Alliance for Caregiving, approximately 43.5 million family caregivers have provided unpaid care to an adult or child with a disability or chronic illness in the last year.
These caregivers perform tasks that range from household activities such as shopping, food preparation, house cleaning, laundry, and transportation to more complex chronic care tasks such as providing medications, feeding, dressing, grooming, walking, bathing, toileting, coordinating medical care and managing finances.
Needless to say, fulfilling this role on regular basis would be stressful for almost anyone. To make matters worse, 57% of family caregivers report that they do not have a choice about performing these tasks, and some even report feeling pressured to act as a caregiver by the care recipient or other family members.
Let's take a closer look at some tips for easing the burden on family caregivers.
1. Seek out support from other caregivers or caregiver support groups
Keep in mind that you are not alone. There are millions of family caregivers in the United States and there are resources and support groups available. This family care directory lists state-by-state help and support groups for family caregivers.
2. Take care of your own mental and physical health
Too often family caregivers sacrifice their own mental and physical well being. The average age of a family caregiver in the U.S. is 49-years-old, meaning that many caregivers are starting to have health issues of their own and need to maintain a healthy lifestyle.
This includes:
Exercise
Helathy diet
Regular health check-ups
Flu shots
Depression screening
Plenty of sleep
Taking an occasional break from caregiving
3. Learn how to communicate with healthcare providers and professionals
Being a caregiver often means coordinating medical care and being a decision maker for your loved. Therefore, it is important to learn how to talk to clinicians and professionals. Check out these tips from the Family Caregivers Alliance.
TIP: Keep medical and legal documents up to date and organized. This will make it easier to prepare for appointments.
4. Accept help from others and ask for it!!
Caregivers often report feeling alone when it comes tho their caregiving responsibilities. While the bulk of the caregiving duties may often fall to one person, don't be afraid to accept a family member or friend's offer of help. If you find that offers of help are few, don't be afraid to ask those close to you for help.
TIP: To make the conversation easier, think of a list of tasks that could be accomplished by others so that when an offer is made, you're ready with a suggestion.
5. Look for new technologies and equipment that can help
Caregiving is a difficult task. Why not let new technology and equipment shoulder some of the load? Items like automated medication management systems that organize medications and tele-medicine stations that can track and transmit vital sign information can help monitor your loved one's health.
Equipment and home modifications such as safe transfer aids, patient lifts, wheelchair ramps, stair lifts, and accessible showers can ease some the physical strain of caregiving and make assisting with activities of daily living (ADLs) easier.
---
---
---
Improve your mobility. Request a free home assessment today!