Safety Pole Systems: What is a SuperPole and how can it help you?
Posted on by John Burfield
If you use a mobility device such as a walker or a cane to help you stand from a seated position, you probably know that this can be a tricky maneuver that often requires assistance from another person. It may also be a safety concern. Fortunately, there are a series of affordable safety pole systems that can assist with the sit-to-stand motion for those with limited mobility.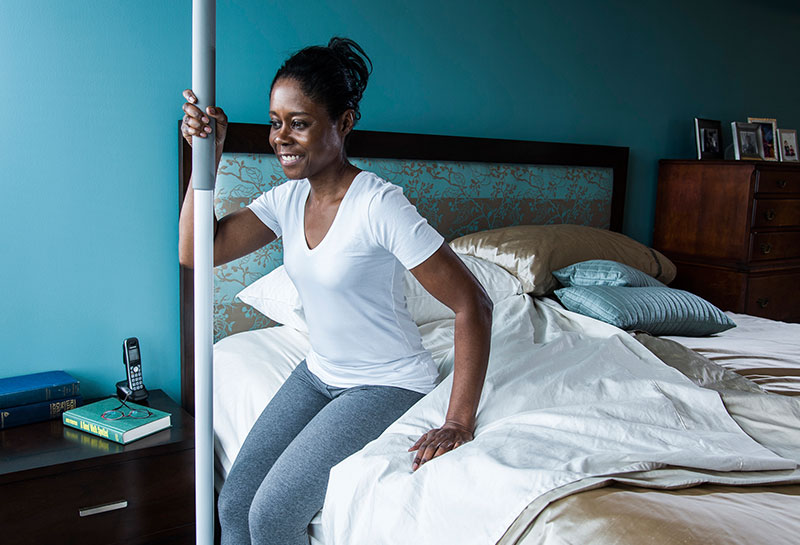 A Superpole is a pressure mounted vertical safety pole that extends from floor to ceiling and can be used in any room including the bathroom. You simply hold on to the foam grip and pull yourself up to standing position. It is ideal for use next to bed, couch, or toilet.
When installed, the super pole safety sytem is secured with pressurized jackscrew hardware that requires no drilling. This means that installation is relatively simple and it can be removed or relocated without any patchwork or repair. Available options include a horizontal grab bar that extends from the Superpole and an overhead trapeze that increases in-bed support and aids in repositioning.
SuperPole Features
300 lbs. weight capacity for standard model
450 lbs. weight capacity for heavy duty model
Standard height of 93 to 99 inches (extended height models available)
Water resistant
Antimicrobial powder coated finish
Non-slip, PVC closed cell foam grip (latex free)
Ideal for home or commercial use
To schedule a free, in-home consultation contact Lifeway Mobility today.
---
---
---
Improve your mobility. Request a free home assessment today!