Ramp or Stairlift: Which is Right for Me?
Posted on by John Burfield
Wheelchair ramps are probably the gold standard of home access. They come in various materials, lengths, and configurations and can make homes accessible to those with all different types of limited mobility. From wheelchair users to those who just need a little extra help getting up the stairs, they can all benefit from an access ramp.
Even with all the benefits of a ramp, there are situations when an outdoor stair lift may be the better option.
When space for a properly sloped wheelchair ramp is limited.
When the homeowner would prefer not to have a wheelchair ramp taking up their outside space.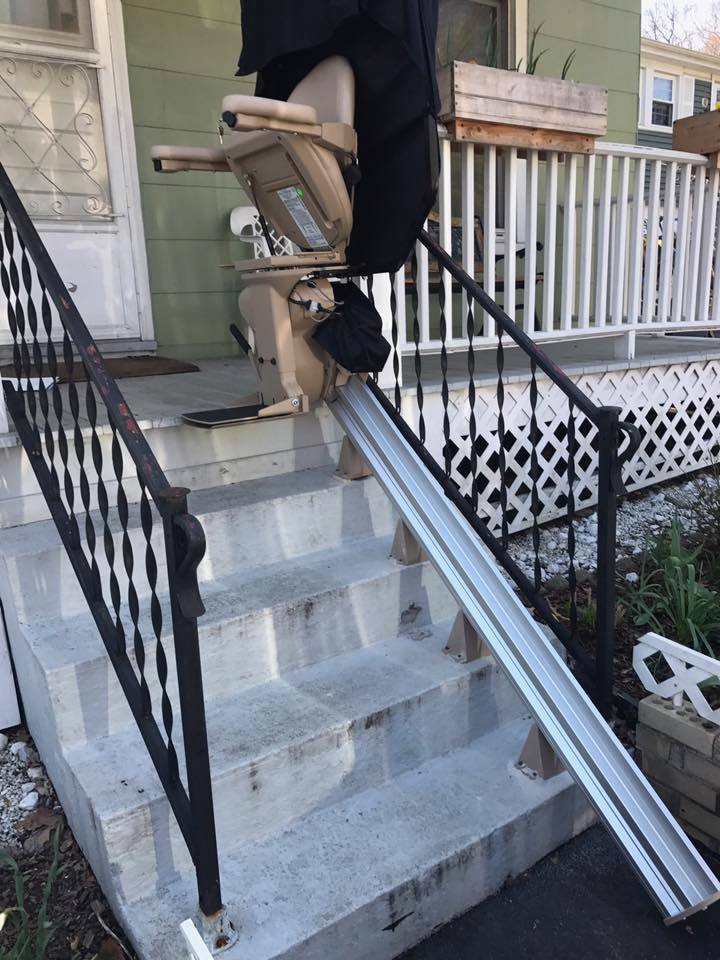 The size of a wheelchair ramp is determined by the rise it must accommodate. ADA requires a 1:12 slope which means 1-foot of ramp for every 12-inches of rise, so a 2-foot rise would require 24-feet of ramp. While residential ramps are not subject to ADA regulations, it is smart to try and adhere to that guideline and not go steeper than a 1:8 slope. This will keep the slope safe and manageable for most people.
If your outdoor space is limited, and you can stand and bear weight, an outdoor stair lift could be used to make your entryway accessible instead of a ramp. The main benefit of a stair lift in this situation would be the smaller footprint. However, with a starting cost around $5,000-$6,000, an outdoor stair lift will likely cost more than a modular ramp. For example, a modular ramp to accommodate a 30-inch rise at a 1:8 slope would start at around $3,800 + tax with installation.
When choosing between a ramp and an outdoor stair lift, a homeowner should weigh the space saving benefits of a lift with their current and future mobility needs along with their budget. If their budget is not restricted, another option to consider would be a vertical platform lift. Many experienced home access companies will provide free in-home consultations where they will discuss the access solutions that are available to you and within your budget.
Wheelchair Ramp or Vertical Platform Lift: Which is Right for You?
Which Type of Wheelchair Ramp Material is Best?
Can a Stair Lift Be Installed Outside?
---
---
---
Improve your mobility. Request a free home assessment today!