Accessible Systems / Lifeway Mobility Denver Hosts Ohana Fall Resource Fair
Posted on by Eric Rubel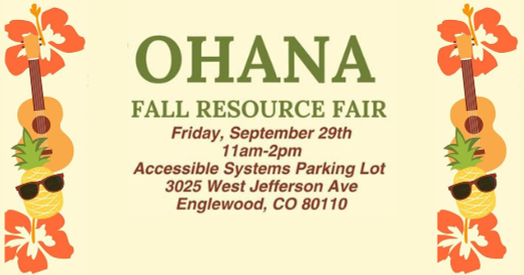 September 18th, 2023
Accessible Systems, a Lifeway Mobility Company Hosts Ohana Fall Resource Fair
Englewood, CO - Accessible Systems, a Lifeway Mobility Company is hosting a one of a kind Ohana Fall Resource Fair on Friday, September 29th from 11am-2pm at Colorado's largest adaptive showhome at 3025 W. Jefferson Ave, Englewood CO 80110.
This free event provides fall prevention awareness by educating the community about community resources that can help prevent falls. In addition, this free event offers health information to persons with long term disabilities, long term diseases, their families and caregivers.
Immerse yourself in a fun gathering where you can engage with informational speakers, discover community resources, and much more. Resources available include adaptive vehicles, home health and home care services, acute rehabilitation providers, physical and occupational therapy, senior placement agencies, custom seating and power wheelchairs, mobility equipment repair and rental, hospice and palliative care providers, Medicaid agencies and local non-profit organizations.
The event will also include bingo, gift bags, freebies and goodies throughout the day.
Refreshments will be provided.
To register to attend, please use the following link or call 720-358-8011.
---