Lifeway Mobility & Freedom Lifts Join Forces to Provide Unmatched Accessibility Solutions in Connecticut
Posted on by Paul Bergantino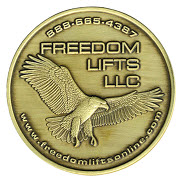 Lifeway Mobility announced today that it has become the majority shareholder of Freedom Lifts, a Danielson, Connecticut-based provider of stair lifts, wheelchair lifts, and elevators.
This acquisition is part of Lifeway Mobility's strategic plan to enhance consumer services and offer value-added products. Freedom Lifts, which will continue to operate under its own brand, will bring complementary expertise, talent, and systems to Lifeway Mobility. The combined organization will be poised as a leading provider in the accessibility marketplace.
"We saw the opportunity to build on the strengths of two great organizations, which include the top installers, support teams, and management in the industry," said Paul Bergantino, president of Lifeway Mobility. The goal, he says, is to "leverage the strengths of both organizations and become the primary resource for ramps, lifts, and transfer products for clinicians, architects, contractors, organizations, and consumers."
As a local company, Lifeway Mobility has already proved itself willing to go the extra mile for its customers. They offer free initial assessments and are committed to providing proper fit, responsive communication, and fast delivery and repair turnaround times. The merger fits with their vision of "staying local" while augmenting their service offerings.
Freedom Lifts has served Connecticut, Massachusetts, and Rhode Island area for over 30 years, and in that time has built a reputation as a leader in enhancing the aging-at-home process. Co-founder Sean O'Reilly noted, "Lifeway's strong understanding of the industry reinforces our dedication to serving those with access needs. We look forward to working together to provide our clients with unique solutions."
Bergantino shared O'Reilly's enthusiasm, calling the transaction "truly exciting news." He added, "This will be a win-win for customers, referral sources, and our teams."
About Lifeway Mobility, LLC
Lifeway Mobility is an accredited accessibility equipment supplier serving southern New England, Chicagoland, Minneapolis, and Indianapolis. They provide products to improve customers' mobility and independence at home and for commercial applications. They also offer a range of transfer solutions to assist clinicians and caregivers with patient mobility and safety. To learn more about Lifeway Mobility, visit their website at www.lifewaymobility.com or call (860) 292-1111.
---
---