How Long Should a Wheelchair Ramp Be?
Posted on by John Burfield
If you plan to add a wheelchair ramp to your entryway, you may be wondering how long it needs to be. Some people might think a shorter ramp is better because it takes up less space and may cost less money. However, if you add a ramp that is too short for the rise of the entryway being ramped, it can be both hard to use and a safety hazard. This often results in a very steep ramp that may resemble a ski jump!
The Americans with Disabilities Act (ADA) requires a 1:12 slope ratio for commercial ramps (ramps used in public spaces). This means that for every 1 inch of rise, 12 inches of ramp are required. For example, if an entryway is 36 inches high, you will need a ramp that is at least 36 feet long. The 1:12 slope ratio reduces the steepness of a ramp to 5 degrees of incline and makes it both easier and safer to traverse.
While the ADA requirements only apply to commercial ramps, many home access professionals adhere to the 1:12 slope ratio for residential ramps as well. However, a slope ratio of 2:12 is also acceptable for residential ramps if space is limited. This means 12-inches of ramp for every 2-inches of rise and 9.5 degrees of incline.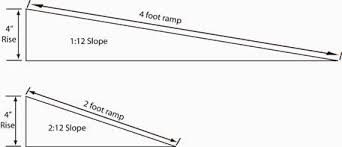 If you have limited space, you may think that a ramp that meets the proper slope guidelines will not fit on your property. However, a modular aluminum ramp can be configured in many ways to maximize your space.
A qualified ramp or home access provider will be able to evaluate your space and determine what configuration and length of ramp will work best.
---
---