Home Elevator installed in Lake Forest, IL on Historic Property
Posted on by Eric Rubel
In October 2017, EHLS / Lifeway Mobility Chicago finished the installation of a residential elevator at a beautiful new home in Lake Forest, Illinois.
The new home that the elevator was installed is located on the property where the historic Villa Turicum was built back in 1912. The Villa Turicum was Edith Rockefeller McCormick's country estate. (See below for more information about the Villa Turicum.)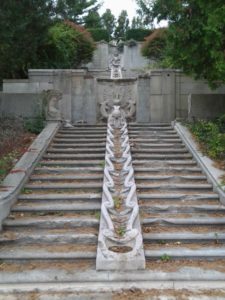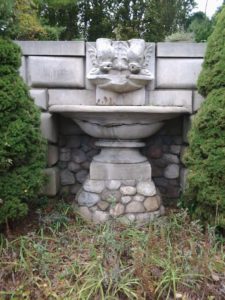 About the Residential Elevator We Installed
The elevator that was installed at this Lake Forest residence was a Savaria Infinity. This elevator has four stops, a 1000 lb. weight capacity, and stainless steel automatic sliding slim doors, which makes entering and exiting the elevator more convenient.
When the elevator installed was installed in October, the home was not yet fully finished (as you can see in the "Before" pictures below). Within the past couple of months, construction was finished inside and outside of the home. The interior and exterior of the elevator are now much nicer looking (see "After" pictures below).
The family uses the elevator as a convenient way to navigate between the four levels of the home and also to transport groceries and other small items.
Before: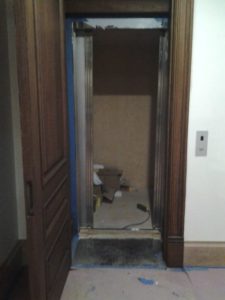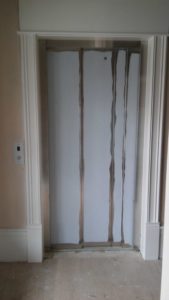 After: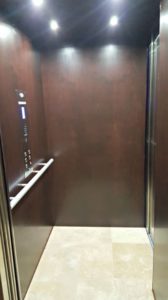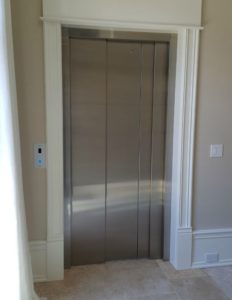 Elevator Interior & Other Features:
Interior:
Birch veneer elevator cab walls and ceiling
Car control panel finished in brushed stainless steel
Features:
84" High Car Ceiling
Roped Hydraulic Drive System
Emergency Stop Switch & Alarm & Gate Safety Switch
Battery Back-Up Emergency Lowering
If you are interested in adding an elevator to your home, please contact us today!
---
Brief Overview of the Villa Turicum:
As many of you may already know, the Villa Turicum was the Country Estate of Mrs. Edith Rockefeller McCormick. Mrs. Rockefeller McCormick was the fourth daughter of John D. Rockefeller, the founder of the standard oil company. Her estate was built on a high bluff in Lake Forest, Illinois, that overlooked Lake Michigan. The Villa Turicum was often known for its beautiful Italian-style garden that featured fountains, ponds, and decorative stairs. Although the Villa Turicum was eventually demolished in 1965, its stone remanents can still be seen today.
Learn more about this famous mansion and garden.
---
---