Home Accessibility Improvements to Help Caregivers
Posted on by John Burfield
According to the National Center for Caregiving, there are an estimated 44 million American adults who provide unpaid caregiving to seniors and adults with disabilities. Of these, 14 million are considered "high-burden" caregivers who provide 21 or more hours of unpaid caregiving per week. Many of these caregivers are untrained and underprepared. The high stress and physical demands of caregiving can have serious consequences on the caregiver's emotional, mental, and physical well-being.
Studies have shown that caregivers:
Have higher levels of depression. According to Family Caregiver Alliance, 40-70% of caregivers show signs of clinically significant depression.
Have high levels of stress and frustration. According to the Center on Aging Society, 16% of caregivers feel emotionally strained and 26% say taking care of the care recipient is hard on them emotionally.
Are in worse health. According to the National Center for Caregiving, 11% of caregivers have reported that caregiving has caused their physical health to suffer. In addition, caregivers have an increased risk of heart disease and increased mortality rates.
Have increased risk of chronic pain and musculoskeletal injury. A study from researchers at The Ohio State University found that "Almost all of the caregivers who participated in our study said they experience significant musculoskeletal discomfort related to caregiving activities, and that this discomfort can interfere with their ability to provide care, work and participate in life activities".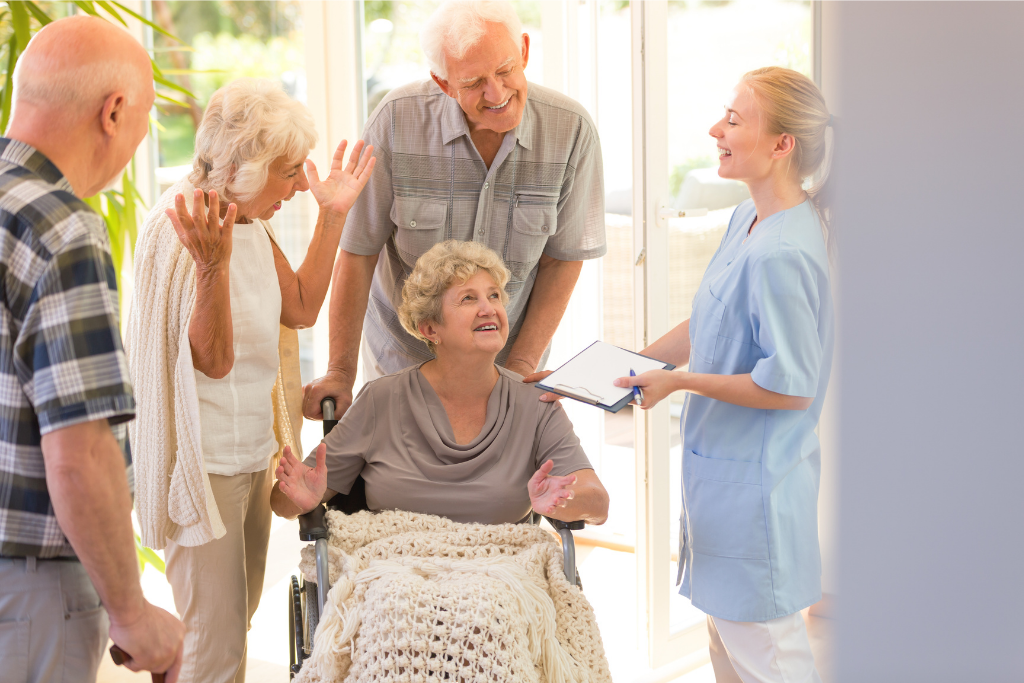 So, what can be done to alleviate some of the emotional and physical burden placed on caregivers?
Receive training. Many local area agencies on aging, hospitals, and organizations such as the Red Cross offer caregiver training on how to avoid injury and best practices.
Ask for help. Don't be shy about accepting or asking family, friends and community members for help. Make a list of activities that can be performed by others, so that you can quickly make a suggestion when help is offered.
Become informed. Be sure to research all available community resources such as caregiver support groups, adult daycare, respite programs and volunteer organizations.
Luckily, there are low-cost accessibility options to help these unsung heroes keep themselves and their patients safe.
Low-Cost Options to Improve Home Accessibility
When a caregiver is aiding an individual who cannot transfer themselves out of bed, walk or bathe on their own, specialized transfer and bath equipment may be needed to alleviate the physical strain on caregivers. Fortunately, there is are many equipment options to choose from that can help provide care to those with limited mobility.
The type of equipment that you choose will depend on the level of care needed. Somebody that cannot bear weight or stand and pivot to assist in transferring themselves to a chair, bed, or toilet may require an overhead ceiling lift. An overhead ceiling lift can either be securely anchored into the ceiling joists or used with a portable overhead gantry. Ceiling lift systems can be designed for any type of transfer, ranging from complex room-to-room transfers to simple wheelchair-to-bed transfers.
When a ceiling lift is not an option, portable floor lifts, commonly called Hoyer lifts, can help with wheelchair to chair, toilet, and bed transfers and alleviate the need for a caregiver to manually lift the individual.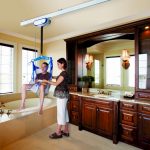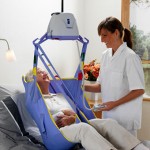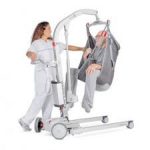 Safe Bathing Options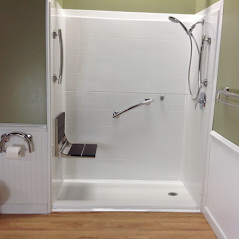 Bathing is also likely to be an issue for those who cannot support their weight and/or stand and pivot. A roll-in or zero entry shower is extremely helpful for the caregiver. These showers allow a caregiver to wheel an individual into a shower and assist with bathing without manual lifting. Accessories such as caregiver doors and adjustable shower heads help to keep them from getting wet during the bathing process. For temporary situations, portable shower bays are available. These can be assembled in any room that can access a faucet with a hose attachment.
This barrier-free, roll-in shower has a shower bench, grab bars, and an adjustable shower head to allow for wheelchair access and those with limited mobility. There is also a caregiver door that allows a caregiver to assist in the bathing process while staying dry.
Home Access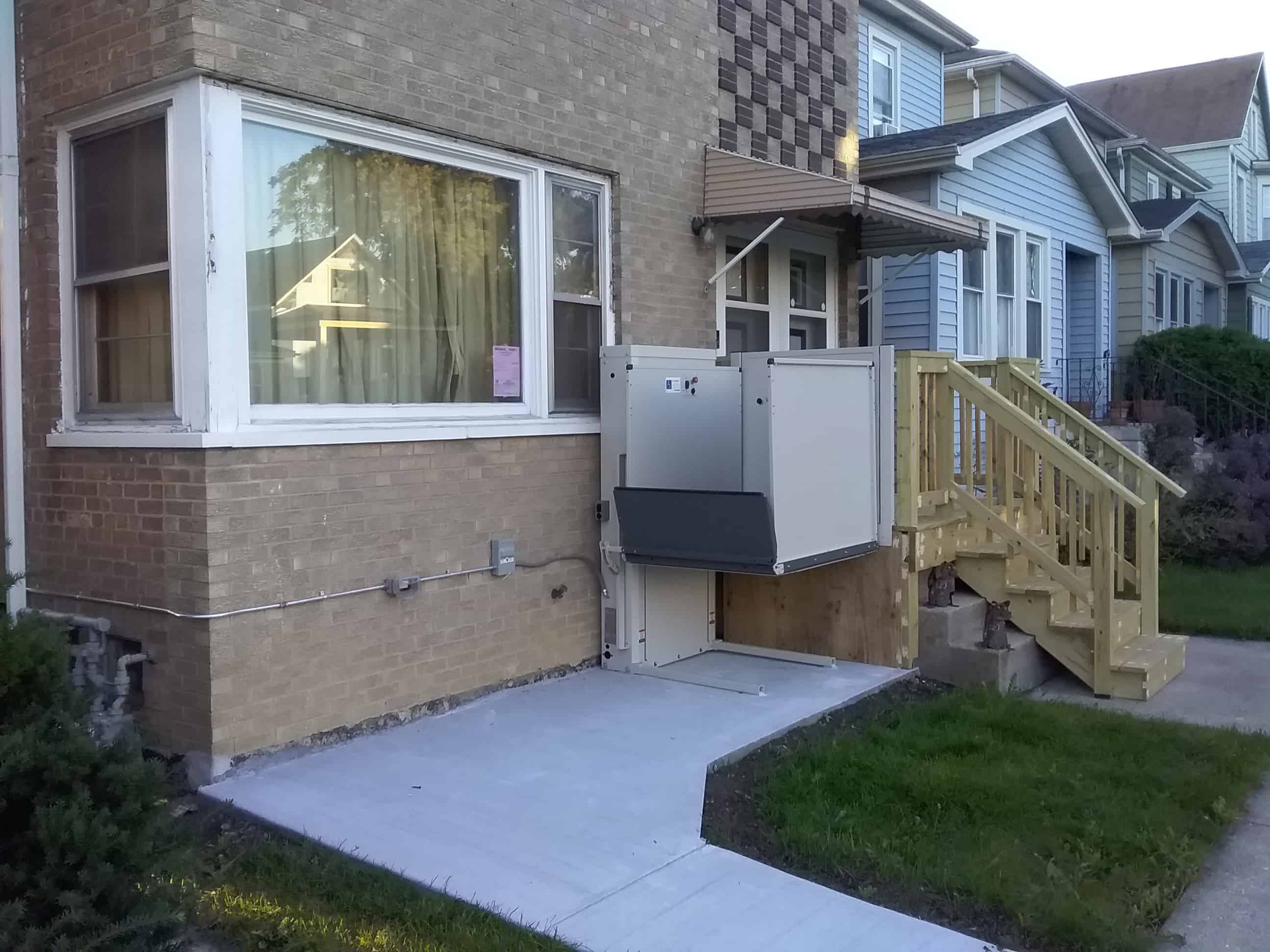 Home entry is another barrier that often causes issues for caregivers. If assisting an individual using a manual wheelchair, a standard entry ramp can be a challenge. A vertical platform lift (VPL) can effortlessly transport a wheelchair user straight up and down, from patio to porch, driveway to entryway, backyard to deck, even floor to floor, up to 14 feet in height.
With an automatic door opener, a caregiver can open an exterior door with the touch of a button. This can eliminate the need to maneuver a wheelchair while opening the door and reduce the risk of physical strain.
Safe Transfers
For caregivers aiding an individual that can assist in their transfers, there is a wide selection of less expensive transfer aids and devices that can be used. These include transfer boards, belts, slide sheets, sit-to-stand aides and more. These items can reduce the risk of manual transfers at a lower price point than some of the mechanical options.
Selecting the right transfer equipment can be overwhelming. However, working with the individual's clinical team (physicians, physical therapists, and occupational therapists) along with a qualified equipment provider, the task can be simplified and provide peace of mind to both the user and their caregiver.
Lifeway Mobility offers a wide selection of mechanical and manual transfer aids and equipment. Please contact us today for a free home evaluation to address your transfer needs.
---
---