Home Accessibility Checklist
Posted on by John Burfield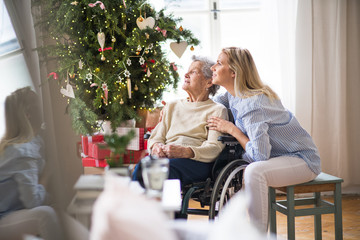 As we gather with family and friends during the holiday season, it is a good time to check in with those who may face mobility challenges and see how they are managing with their daily activities. Below is a checklist that highlights potential problem areas and fall hazards in the home.
If you notice any problem areas in your loved one's home, consider contacting an experienced home access provider for an accessibility assessment. Many providers will offer them free of charge and will be able to provide the right solution to fit your needs and budget.
1. Exterior Entrances and Exits
Note condition of driveway and walkways – Look for cracks, potholes, etc.
Note amount of light for driveway, walkways, and porch
Make sure bushes and shrubs do not block doorways, walkways or driveways
Look for handrails on entryway steps and note their condition
Check height of door threshold – Make sure user can safely step over
Note ability to use doorknob, door locks, mailbox, etc.
2. Interior Doors, Stairs, and Hallways
Note height of thresholds and width of interior doors – Determine which direction doors swing
Note width of hallways and determine if they are wide enough to use walker, wheelchair, etc.
Note if user can navigate stairway safely – Is stairway straight or curved?
Note if stairway has proper lighting
Note condition of stairway railings – Determine if they are properly secured
3. Kitchen
Note height of sink and counters – Determine if user can safely reach them
Note height of storage cabinets – Determine if they can be accessed safely
Note if there is space for wheelchair user to navigate kitchen and use sink, oven, etc.
4. Bathroom
Determine if user can operate sink, tub and shower faucets
Determine ability to safely enter and exit shower or bathtub
Determine if there is enough room for tub/shower bench, if needed
Determine height of toilet and user's ability to access safely – Note ability to sit, stand, reach toilet paper, flush, etc.
Determine if there is enough space in bathroom for a caregiver, if needed
5. Miscellaneous
Able to safely access washing machine/dryer
Adequate lighting throughout home
Working light switch for each room
Working smoke/carbon monoxide detectors and fire extinguisher
---
---
---
Improve your mobility. Request a free home assessment today!