Face Your Fears
Posted on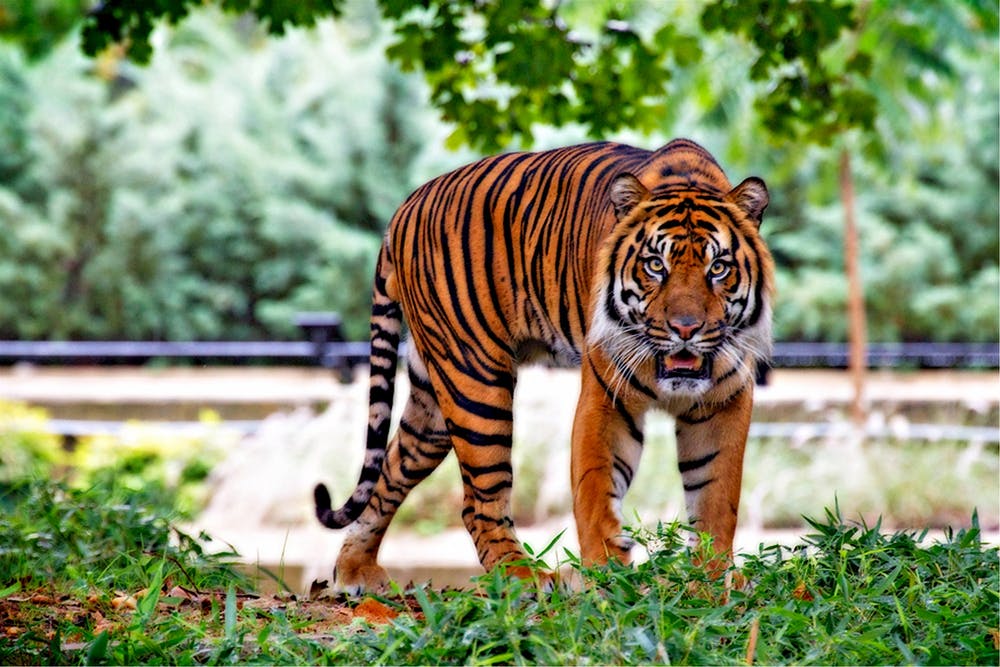 There's an old tale about two villages in the jungle that traded goods with one another. The tigers that lived in those jungles started charging the villagers. They would sneak up on the person who was traveling from one location to the other and strike from behind. Sadly, hundreds of people had lost their lives because of these tiger attacks.
One day the assigned trader arrived at the second village ready to do business, but he was wearing a mask on his head backwards! The people were curious as to why he would wear this mask with the face on the backside of his head.
The merchant explained that if the tiger thought he was facing him; the tiger would not attack. If his back was toward the tiger the merchant was viewed as prey and would suffer as hundreds of other villagers already did. To this day, when the people of these villages travel to another village, they wear masks with the face displayed on the back of their heads and have stayed safe because of it.
How often in life has it felt like a villain crept up on us and we were completely unaware? Or perhaps we sensed something was about to change in our sphere and instead of looking at our options, we turned our back in fear and choose to look the other way? When we yield to the force of fears, we are giving it power over our lives. So why not address some of those concerns and seek solutions instead? Here are some common fears people experience today.
Fears of Falling
The fear of falling does not go unfounded. All it takes is one slip on the steps and the mere jolt to the body will strike at our self-confidence. Losing balance and taking a spill can send even the strongest person in a downward spiral. It's not uncommon to then become a fearful person over even the smallest endeavors in the future. There are some precautions that people can take.
For example, it may not have been difficult navigating two or three steps into the front door for the past 30 years, but now those steps are a challenge! Handrails can be a very effective and inexpensive solution to remedy future accidents getting into the house.
If a family member feels wobbly inside the home, going from room to room handrails along the walls of dining areas, family rooms or even bedrooms can bring peace of mind.
If navigating a longer staircase is a daunting challenge, stair lifts may be less pricey than you think! Contact us for an obligation-free quote.
Since the bathroom is the most dangerous place in the house, fear of falling in the shower is a common concern! Non-slip coating can be an easy fix to a slippery shower scenario. Our technicians clean the tub or shower and then apply this no slip grip to any shower, bath or other flooring needed in your home. Combine this measure of safety with grab bars and your bathroom is no longer the most dangerous room in the house!
Fears of Losing Independence
We have some clients who may be in the throes of MS, ALS or some other progressive disease and in an effort to enjoy a sense of independence, they have chosen to install an overhead lift.
With this multi room overhead lift system, the user has regained or maintained their independence. This lift enables the user via remote control to go from bed to chair to toilet to shower and in fact can zoom throughout their entire home if they so desire!
Because we have licensed contractors and an in-house construction team, we are also able to remodel any room in the house. One of our clients wanted their kitchen redone so their wheelchair bound daughter could learn how to cook! Here we were able to design the kitchen so she could roll up to the stove touch a button and it would bring the stove top down to her level. When she was done cooking, she could hit the same button and it would raise the stove back to its original height. Even the dishwasher was no longer a heavy door opening but now was a drawer that she could access easily as well!
Fears of Being Invisible
It has been said, that when we approach a certain age, we can feel like no one notices us anymore. There are a few ways to remedy that situation and stay clear of those fears.
Decide to get active or stay active in the community. There are plenty of organizations that have weekly activities such as bus trips to wine tasting events, theatrical productions, casinos, baseball games and other sporting events. They have ongoing classes and opportunities to learn how to Zumba, dance or use a smartphone, Facebook, and other social media to stay connected with kids and grand kids who may be far away.
There are opportunities all around us, but we must make the effort to help connect our seniors to those programs. Sometimes folks just don't know what's available to them. If we are aware and compassionate enough to invite them, it could be a life-changing event for the senior and their entire family!
So in the long run, there is no fear that can overcome us unless we allow it to do so. There are solutions for us but sometimes we need to put on a mask of courage just to get us to the right spot where options are available to us. Once we get ourselves in an atmosphere with others who are seeking social connection and independence, we realize we're not invisible at all! We have a community of people who care, we were just unaware.
---