Choosing the Right Wheelchair Ramp
Posted on by Paul Bergantino
At some point, you or a loved one may need to consider a wheelchair ramp to continue living independently due to a decline in mobility. Whether you're using a wheelchair, scooter, cane, or simply have trouble with stairs, a wheelchair ramp can be a quick, easy, and affordable solution.
There are a variety of ramp options available, so it's important to consider some of the major factors that can influence your decision.
Where Does the Wheelchair Ramp Need to be Installed?
The very first question you should consider is whether the ramp will be installed indoors or outdoors. Do you need to bridge the threshold gap between your living room and kitchen? Is there a set of steps in your home that's difficult to navigate? An indoor ramp, such as a threshold or folding ramp, could be the perfect solution.
Indoor Ramps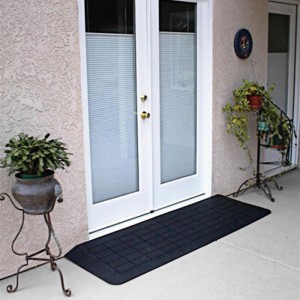 Available in rubber or aluminum, threshold ramps provide a safe, durable means of navigating uneven household surfaces like small steps and doorway thresholds. Some even include a hidden dovetail locking system for easy installation and incremental ramp height adjustment of up to 6 inches. Folding ramps have a low profile but can support up to 750 lbs. Multi-fold ramps are perfect for navigating over entrances, small staircases, and a variety of places in the home.
Outdoor Ramps
However, if your ramp needs are actually outdoors, there are a few options to consider. Modular ramp systems are a great solution for those with limited mobility, whether you use a cane, walker, wheelchair, or scooter. Outdoor ramps can provide a safe, secure entrance to your home. Durable and affordable, outdoor ramps can also be customized to match your home's style. Modular ramps are oftentimes available to purchase, rent, or rent-to-own and can be installed within a couple of days after purchase.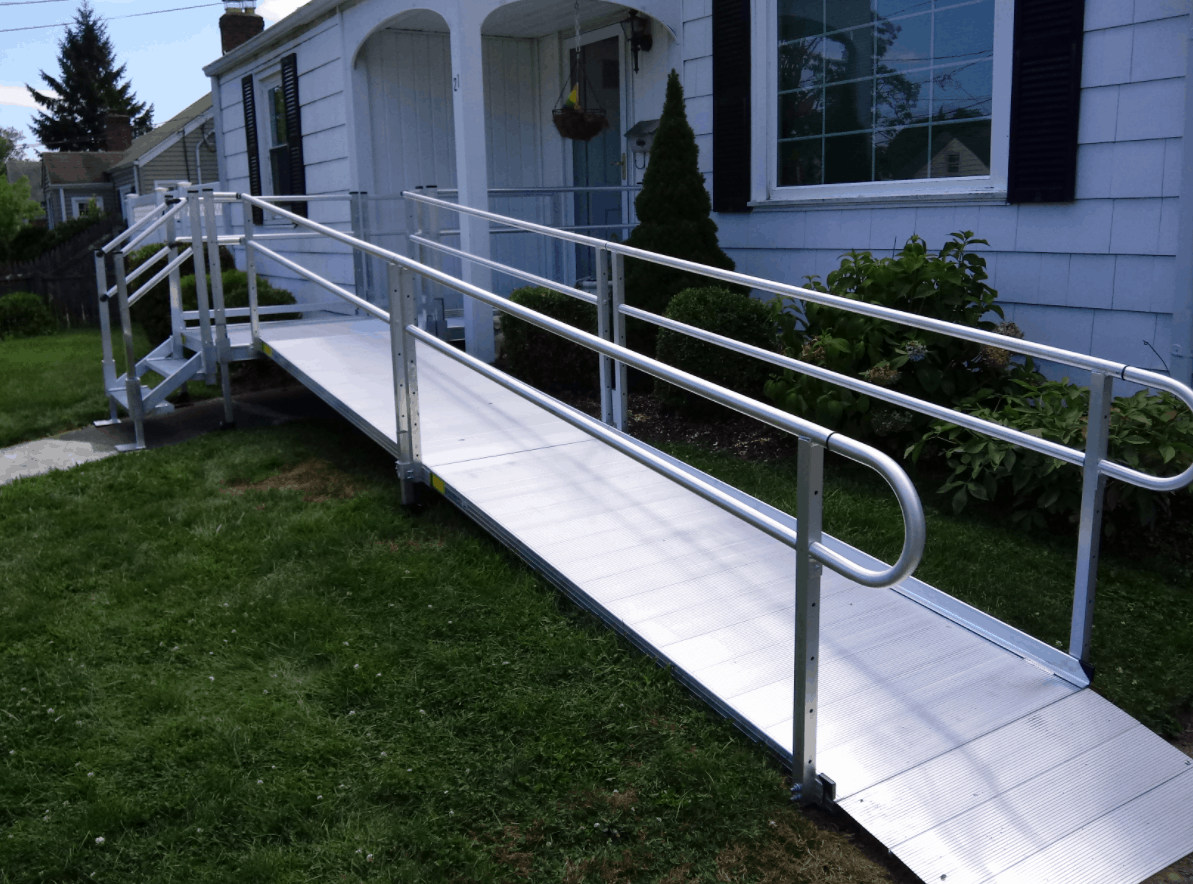 Long-Term vs. Short-Term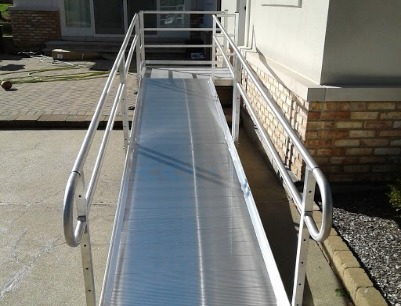 It's important to consider the period of time for which you'll need the ramp. Perhaps you're recovering from surgery or have a friend or relative with limited mobility visiting your home. In this case, a temporary ramp solution would be best. Modular and portable aluminum ramps are the most cost-effective option for those in need of a short-term mobility solution.
For those aging in place or using a mobility product to access your home, a more permanent ramp solution would be best. Most companies offer a purchase or rent-to-own option, where a portion of your monthly rental payment goes toward the ramp's purchase price. For a permanent installation, some companies offer a variety of texture and color options to match the aesthetics of your home. Most ramps require minimal modifications to your home and can be installed within a few days.
How Wide Does Your Ramp Need to be?
To determine the correct ramp width for your needs, you need to consider both the size of your wheelchair and the additional space needed to navigate the ramp. First, you should measure the width of the wheelbase on your wheelchair or scooter. A minimum clear width of a wheelchair ramp should be 36 inches. Often times this means that the application's width must be at least 42 inches wide to allow for enough space between the handrail and any other surface.
What Type of Ramp Material is Best?
Residential ramps can come in a variety of different styles, colors, and materials. One consideration, especially if you're going to have a permanent ramp installed, is the ramp material you'd prefer.
Aluminum
Aluminum ramps are strong, durable, and lightweight. They can withstand harsh winter months and require virtually no maintenance. Aluminum modular ramp systems are perfect for permanent or temporary installations because they can be easily disassembled and reinstalled in a new location. It's important to make sure that your aluminum ramp has a non-slip walking surface to ensure the safety of those using the ramp in wet or snowy conditions.
Wood
Depending on the aesthetic of your home, wood ramps can be visually appealing. However, they can have a few drawbacks. Like any wooden deck, wood ramps require maintenance. You must be sure to maintain the wood to prevent rotting or warping. They can also be slippery when wet. A non-slip surface is often required to ensure the safety of those using the ramp. Wood ramps are more ideal for permanent solutions, as they require more specific materials and labor.
Rubber
Rubber threshold ramps are ideal for navigating uneven household surfaces like small steps and doorway thresholds. Perfect for indoor or outdoor use, rubber threshold ramps provide a durable means of maneuverability throughout the home. With their non-skid surface, rubber threshold ramps are a safe and affordable home accessibility solution.
No matter your need, Lifeway Mobility would be happy to complete a free remote or in-home assessment to help you choose the ramp that best fits your mobility needs.
---
---