Can I Rent a Stair Lift?
Posted on by John Burfield
Some people may think of a stair lift as a permanent solution for somebody that will never be able to climb the stairs on their own again. This is a misconception. Many stair lift providers offer rental and lease to own units for those with temporary mobility issues.

If you've recently sustained an injury or undergone a surgical procedure that limits your ability to climb the stairs, a rental stair lift might be the right solution for you.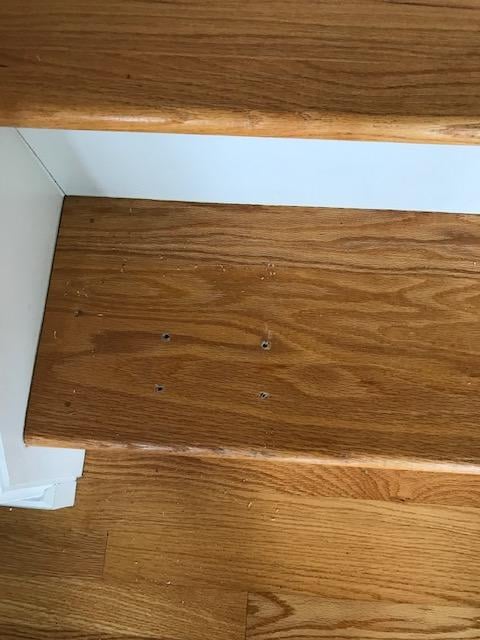 Stair lifts are anchored into the treads of your stairs and not the wall. This means that when a stair lift is no longer needed, it can be removed with minimal impact to the staircase. If needed, the holes (seen right) that remain can be plugged and will hardly be noticeable after removal.
However, there are some limitations when it comes to rental units. For instance, most providers only offer straight rail stair lifts for rent. This is because curved stair lifts require a custom rail that is shaped by the manufacturer to match the unique dimensions of your stairway. It's also important to keep in mind that a rented stair lift may have been previously installed in another customer's home. However, reputable providers will ensure that a previously installed stair lift will be in top working condition before installing it in another home.
If you know that your needs are temporary, and you do not want to commit to purchasing your stair lift, a rental unit will likely save you some money too. A new straight stair lift with professional installation will usually cost you between $3,000 and $4,000. At Lifeway Mobility, you can rent a Bruno Elan starting at around $1,095 plus any applicable fees such as permits.
This price includes installation, removal and 3 months of rental. If needed, repair services are also included. Each additional month will cost $115 and optional features like a folding rail will also be subject to an additional monthly fee.
If you think that your recovery will last more than 12 months, it is probably a good idea to consider a rent to buy option or purchasing your stair lift outright. A recent year model that is in good condition is typically eligible for a buy back if the lift is no longer needed.
When deciding to rent a stair lift it is a good idea to find a reputable provider with a clearly defined rental policy and pricing. This can help you avoid any surprises when the invoice arrives.
---
---
---
Improve your mobility. Request a free home assessment today!