Vertical Platform Lift Installation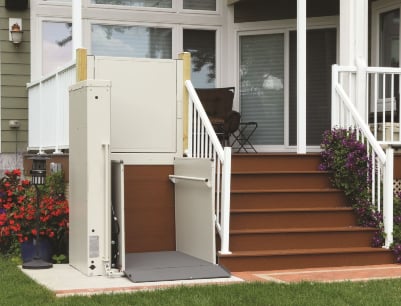 What is involved in a vertical platform (VPL) installation? Platform lift projects come in a variety of shapes and sizes—making it difficult to make general statements about the installation process. There are some useful observations we can make:
The first step is to prepare the site and get it ready for the equipment. Lifts must be properly supported, either with a concrete base or properly supported walls. If installing a lift is going to be complex it is usually because of the site preparation. Installing a lift outside a home or in a structure under construction tends to be much easier.
The second (and usually far easier) step is the installation and inspection of the lift.
The lift will require 110-volt power and if it has a hoistway, a phone line.
When installing a complex VPL project, it is helpful to have a single contractor who will provide both the site preparation and complete the installation—avoiding finger-pointing between the contractor and the lift provider. Lifeway is a licensed general contractor and we have been installing vertical wheelchair platform lifts since 1991, so we have the experience and ability to plan, manage and successfully install your VPL.
VPL Door Requirements
Accessibility codes must be followed when installing doors on a VPL. Manufacturers will provide doors that meet local code requirements.
Special swing doors must be flush mounted in the following situations:
In a public setting
When the VPL is in a hoistway
At all landings
*Flush mounting the doors in the above situations eliminates any possible pinching hazards.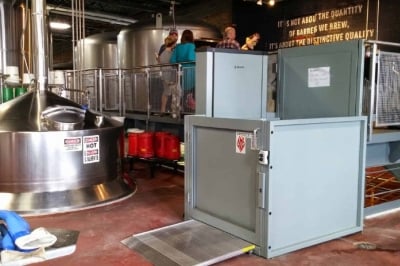 Doors are required to be automatic / power-operated in the following situations:
If the car is entered at two landings on the same side
If the car is entered on one end and exited 90 degrees from that
An entrance accessed with a ramp
An application with more than 2 stops
When doors do not have 18″ of clearance next to the handle side of the door
For more information on VPL door requirements, please give us a call at (888) 714-1930.
---