Straight Stair Lifts vs. Curved Stair Lifts
Lifeway is an expert in both straight and curved stair lifts for homes, churches and places of worship, and commercial buildings. The information below can help you get an idea of what's possible for your staircase, especially for those that have curves, turns, and intermediate landings or when you have multiple staircases in your home limiting safe travel between floor levels.
Two Straight Stair Lifts or One Curved Stair Lift?
We often come across customers who are considering the installation of two straight stairlifts for a staircase with a 90° turn at a landing or a staircase that has an intermediate landing between two straight staircases. Two straight lifts would be less expensive than a curved stair lift, but what's most important is the safety of the person that will be using the lift. If the landing is large enough for a transfer and the person's mobility allows them to safely transfer from one chair to the other, then it's an option to consider. However, if the landing is small and/or the person that will be using the lift does not have the strength or balance to transfer from one chair to another on their own, then a curved stair lift is going to be the safest solution.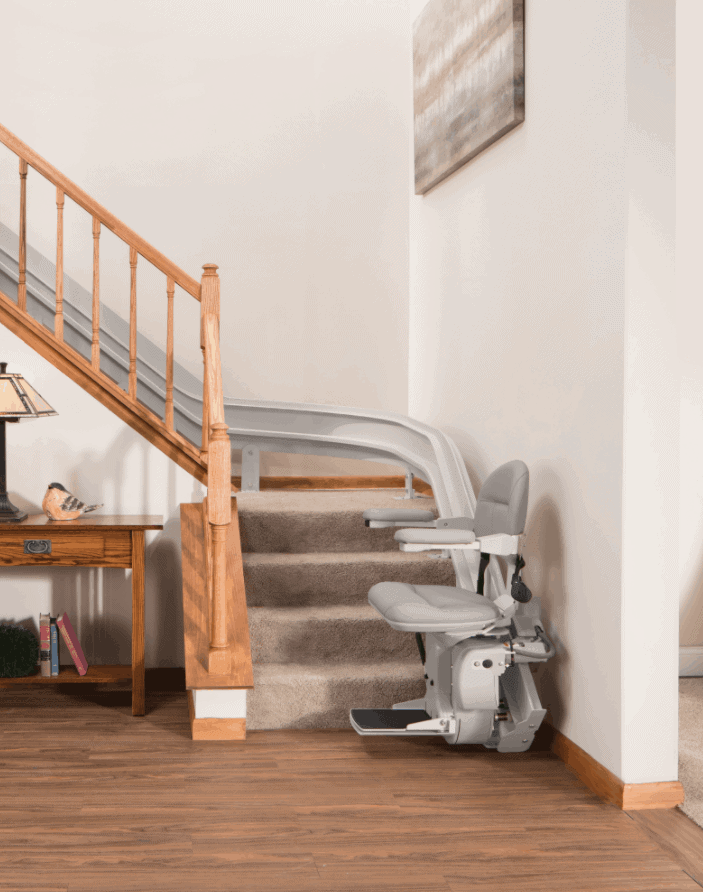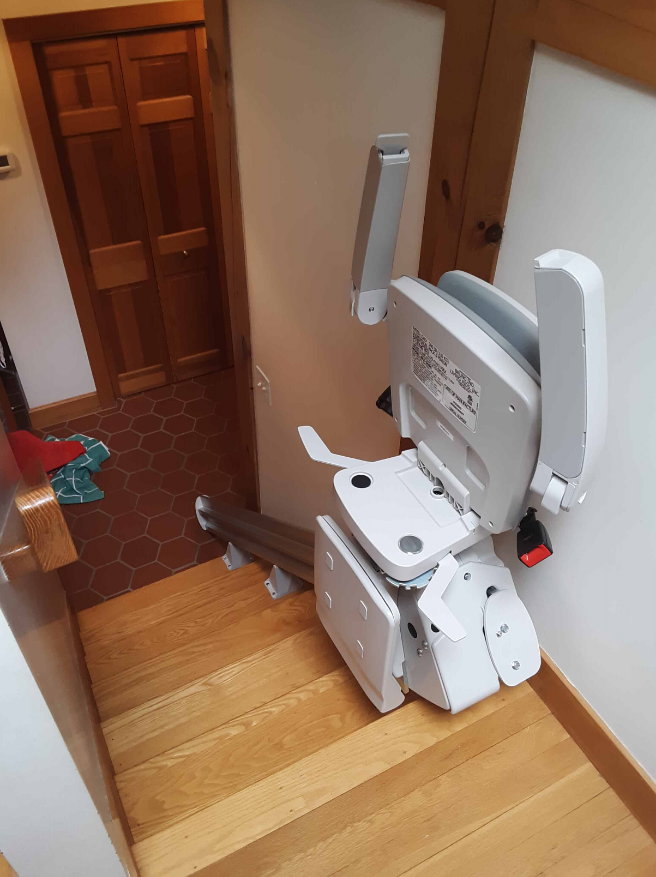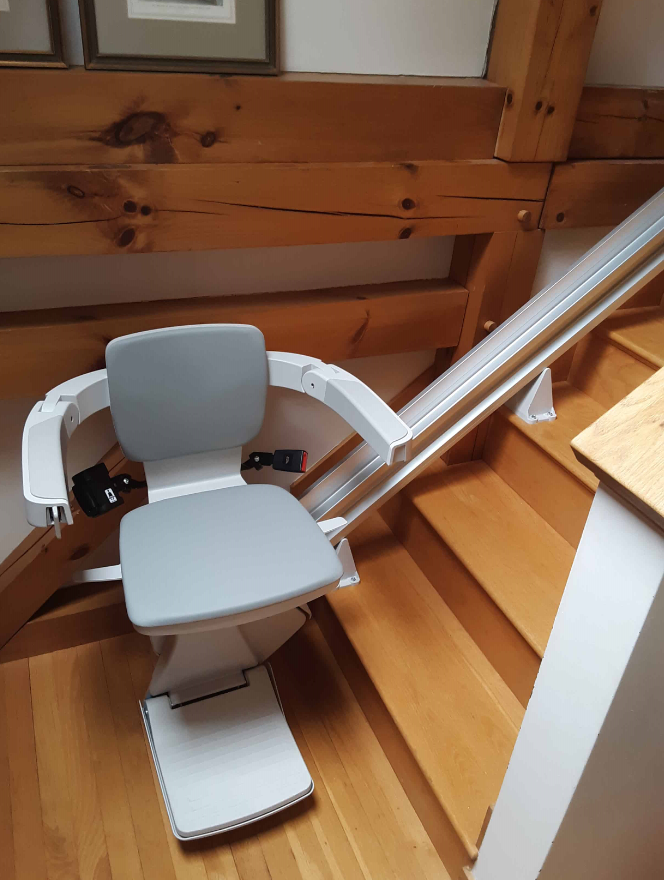 As stair lift experts, Lifeway's consultants can help you and your family determine if two straight lifts is a possibility based on the mobility of the person in need of the stair lift and the size of the landing.
Curved Stairlifts
If it turns out that the landing between the staircases is too small or if the stair lift user needs assistance from a caregiver or relative to transfer, we would recommend a custom curved chairlift. The rail of the curved stairlifts that we offer are custom fabricated to exactly match the twists and turns of the stairs. Our suppliers can bend rails in amazing ways, which allows for us to install lifts on some very complicated stairways, such as a spiral staircase. The two curved stairlifts pictured here give you an idea of the possibilities with a curved stair lift.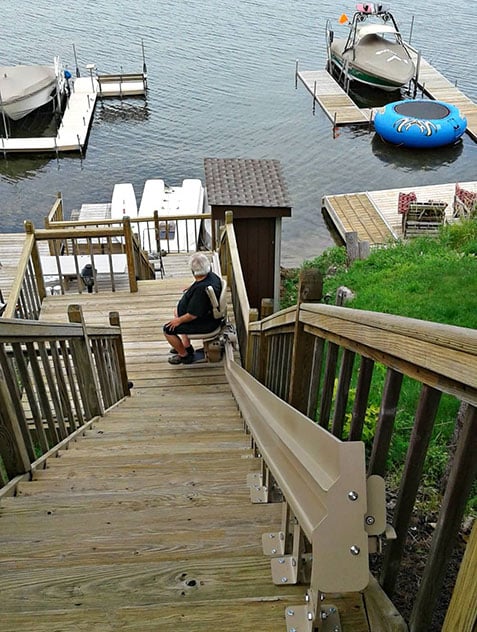 Detailed Measurements of Staircases with Curves, Turns or Landings
Most manufacturers have created CSI-like technology to simplify and improve the results of the detailed measurements. Using a digital camera to photograph the stairs, the systems create a digital model of the staircase that is used to create the custom rails for the staircase, improving quality and shortening the delivery time. Lifeway has cameras from the manufacturers that will allow for us to take the necessary photos to custom build the rail.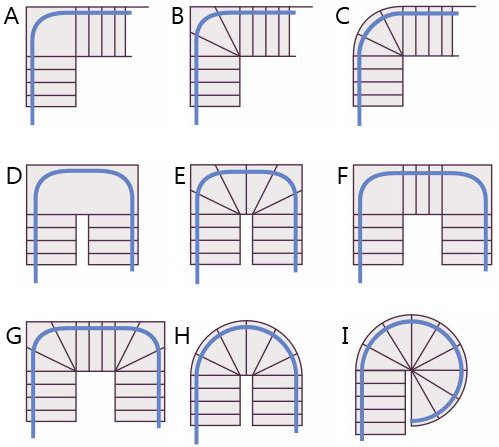 Project Timing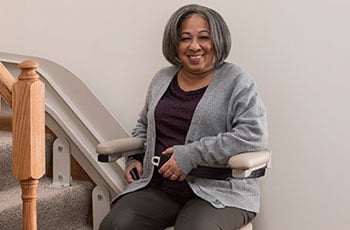 By their nature, straight rail lift components can be delivered and installed within a day or two in most cases, which is much quicker than curved rail stair lifts. Curved rail units are custom made to fit a particular stairway and this process takes a certain amount of time. To ensure a curved stair lift will fit, one of our sales consultants must come back to your home to take pictures of the staircase. The photos are then sent over to the manufacturer so that they can approve them and begin the process of building the custom rail. In general, Lifeway can install a curved stairlift 4 to 5 weeks (on average) after the detailed measurements/photos are completed and approved. Your Lifeway representative can give you delivery times for the various lifts we install.
If you have any questions on the information above or would like to schedule a free remote or in-home evaluation, please contact us! One of our experts will take the time to learn about the challenges that you may be facing and so that we can help you choose the products that meet your specific needs.
We also recommend taking a look at the Lifeway ultimate stair lift guide to learn just about anything one would need to know about stair lifts!
---
Improve your mobility. Request a free home assessment today!