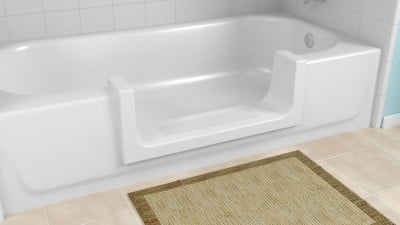 Showers & Bath
Tub Cut-Outs
No need for a pricey bathroom remodel. Make your existing tub accessible again by converting it to a step-in tub. This is the least expensive and quickest way to solve the problem of getting into and out of your tub. A tub cut-out accommodates a wide range of different situations and can be installed in just one day!
Installation
Ready to enjoy a safe, comfortable bathing experience at a fraction of the cost and time of a remodel? Lifeway Mobility can install your step promptly – in just one day! – so you can bathe safely once again.
Features
Can be done on any tub, including fiberglass, steel, and even cast iron.
Installed in less than one day
Greatly reduces the possibility of falls
Enables easy step-in access
Costs a fraction of the price of remodeling
Ideal for homes, apartments, senior living communities, and hotels.
Pricing
*Actual price depends on location of install and tub material.
---
Improve your mobility with a tub cut-out. Request a free home assessment today!