Outdoor Wheelchair Lifts for Homes in Erie
Outdoor wheelchair lifts for those with disabilities or limited mobility are commonly referred to as porch lifts, as they can provide access to the entry, backyard, and/or front yard of homes and commercial buildings. Lifeway's outdoor wheelchair lifts are built to operate in changing weather climates.
A porch lift will allow family members that are powerchair or wheelchair users to get in and out of the house independently! Let Lifeway help you find the wheelchair lift that will best fit your needs and keep you safe.
Bruno 3100 Series Outdoor Vertical Platform Lift

The Bruno 3100 vertical platform lift is a cost-effective home accessibility solution that can give a scooter or wheelchair users an alternative to installing a long winding ramp. For the consumer who insists upon performance and reliability, the Bruno VPL-3100 offers the perfect solution for your home accessibility needs.

View Product

Bruno 3200 Series Outdoor Vertical Platform Lift

The 3200B series offers a full 14 feet of lifting height. Designed exclusively for residential use, this taller VPL can transport you down to the basement, or up to a deck or elevated porch. With a weight capacity of 750 pounds, the 3200B can easily handle a power chair, occupant, and caregiver.

View Product
---
Outdoor Wheelchair Lifts for Homes in Erie Gallery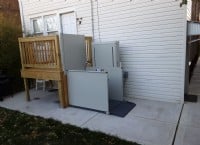 ---
Improve your mobility. Request a free home assessment today!