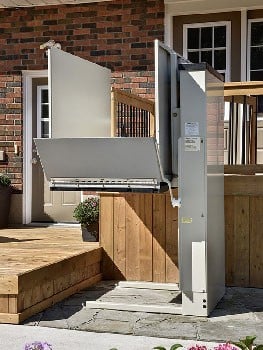 Outdoor Wheelchair Lifts
Savaria Multilift Outdoor Vertical Platform Lift
A vertical platform lift designed for low-rise travel indoors or out, the Savaria Multilift is an easy way to create access. The Multilift is available in multiple entry/exit configurations and platform sizes to suite your needs.
With its durable design, the Savaria Multilift is popular for accessing decks and porches – even in demanding climates. Several models of the Multilift are available, including a mobile version, an enclosed unit, and one clad in stainless steel. The Multilift is available for commercial applications in the U.S. and for home use anywhere.
Features
750 lb lifting capacity
Travel up to 48″
Ruggedly constructed: Ideal for outdoor or indoor use and withstands weather extremes.
Reliable operation: The ACME screw drive delivers precision movement, strength, and performance you can count on, day after day.
Easy to install: The self-enclosed drive tower makes the unit fast and easy to install.
Other standard features: Continuous pressure operation, keyed access to the car, a non-skid zinc-coated platform in three standard sizes, automatic access ramp.
Standard finishes: Beige powder-coat paint.
Safety features: Emergency stop button on car, underpan obstruction sensors, non-skid platform, manual lowering crank, 42 1/8″ side panels, keyed cab buttons, and keyed call stations, automatic access ramps, slack cable switch.
Options
Larger platform sizes
Low profile aluminum doors
Steel ULC fire rated doors
Wooden door on frame
Power gate and door operators
Tempered glass inserts for doors
Acrylic inserts for gate
Audible alarm and light on car
Grab rail
Fixed access ramp
GAL or Savaria WR-500 weather resistant lock
Travel up to 72″ (182.88 cm)
Can be ordered as a 12-volt DC power supply for residential applications
Downloads
Photo Credit: Savaria
---