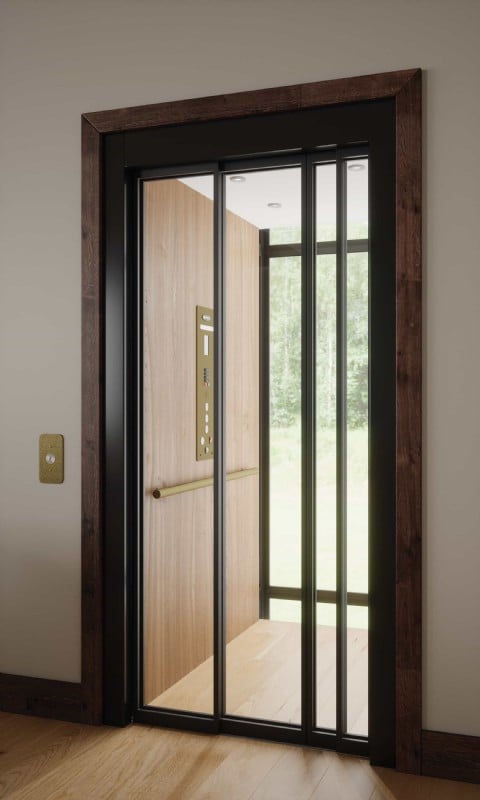 Residential Elevators
Savaria Infinity Home Elevator
Remaining safe in your own home with limited mobility doesn't mean you have to miss out on luxury. With the Savaria Infinity residential elevator, you'll love having freedom of movement throughout your home – but you'll also thoroughly enjoy the Savaria Infinity's smooth, quiet rides and elegant interior.
The Savaria Infinity is an elevator that complements your home. It is a great accessibility solution for larger homes, as hydraulic in-home elevators require space for an elevator shaft. The Infinity can provide up to 6 stops, each configured to suit your house, so you can comfortably and easily access each level. This convenience also means you'll never worry about carrying laundry, meals, groceries, or other heavy loads from floor to floor again.
Features
High-efficiency precision hydraulic drive system: for a smooth and quiet ride.
Magnetic floor selection: Automatic leveling at each landing to ensure the elevator meets the floor precisely.
Submersible pump and motor: For whisper-quiet operation.
Variable speed pressure valve: Gradual acceleration and deceleration for gentle stops and starts.
Standard Finishes: MDF with or without finish, melamine in a choice of finishes, stainless steel, clear or bronze anodized aluminum cab operating panel and hall call stations, plywood floor.
Multiple Safety Features: Battery operated (UPS) emergency lowering and lighting, manual emergency lowering button, lockable control panel, elevator door interlocks, emergency stop switch, in-use indicator lights on hall station, slack rope safety system.
Other Standard Features:

Fully automatic operation, modular rail construction for easy construction, automatic cab on/off interior lighting, digital display in car operating panel, white ceiling with 4 halogen pot lights, melamine interior in choice of colors.

Warranty: See details from Savaria here
Tech Specs
Applications: Residential, indoors
Standard capacity: 750 lb (340 kg), 950 lb (431kg), 1000 lb (453 kg)
Maximum travel distance: 50' (15.24 m)
Nominal speed: 36 ft/min (0.18 m/s)
Drive/motor: 1:2 cable hydraulic drive, 5 hp
Minimum pit: 8" (203 mm)
Minimum overhead clearance: 92" (2337 mm).
Power supply: 208 volts, three phase, 60 Hz, 30 amps or 230 volt, single phase, 60 Hz, 30 amps

The Infinity may also be ordered in an HD (heavy duty) configuration with the same specifications as above, with the following differences:
Optional capacity: 1400 lb (635 kg)
Drive/motor: 1:2 cable hydraulic drive, 5 hp submersed
Minimum pit: 12" (305 mm)
Minimum overhead clearance: 92" (2337 mm) for standard 80" cab, 96" (2438 mm) for 84" cab, 108" (2743 mm) for 96" cab
Options
Your local Lifeway Mobility can show you the many ways to make your Infinity home elevator the perfect complement to your home. A variety of finishes and fixtures are available to suit virtually any décor.
Doors and Gate Options:

Auto slim doors (84" cab height required)
Bi-folding doors
Panel-fold gate in clear anodized aluminum with clear acrylic inserts, or anodized bronze with bronze acrylic inserts
Visi-fold gate anodized bronze with bronze acrylic
Clear-fold gate in clear anodized aluminum with clear acrylic inserts
Power gate and door operators

Optional Fixture Finishes: Brass #4 finish (handrail, cab operating panel, hall call station). Hall call stations available in rectangular or oval design.
Optional Cab Finishes: Recessed hardwood, raised hardwood, finished or unfinished veneer, luxury MDF or routed white MDF
Other Options: Up to 6 stops, telephone cabinet, alpha-numeric button marking, two-exit opening, keyed hall call station, interlocks.
Download Lifeway Mobility Elevator Options Brochure for Savaria Elevators
Cab Sizes
W36" x L48" x H80"
W36" x L54" x H80"
W36" x L60" x H80"
W40" x L54" x H80"

Infinity HD: W48? x L60? x H80?
Optional Height: 84? or 96?

---