Recently, Lifeway Mobility had the honor of working with Joseph, a 29-year-old Navy combat veteran who suffered a spinal cord injury while working his job as a delivery driver. After a 6-month stay at Gaylord Hospital, he returned home paralyzed from the chest down and with limited use of his arms. Prior to his accident, Joseph was in good health and faced no mobility issues.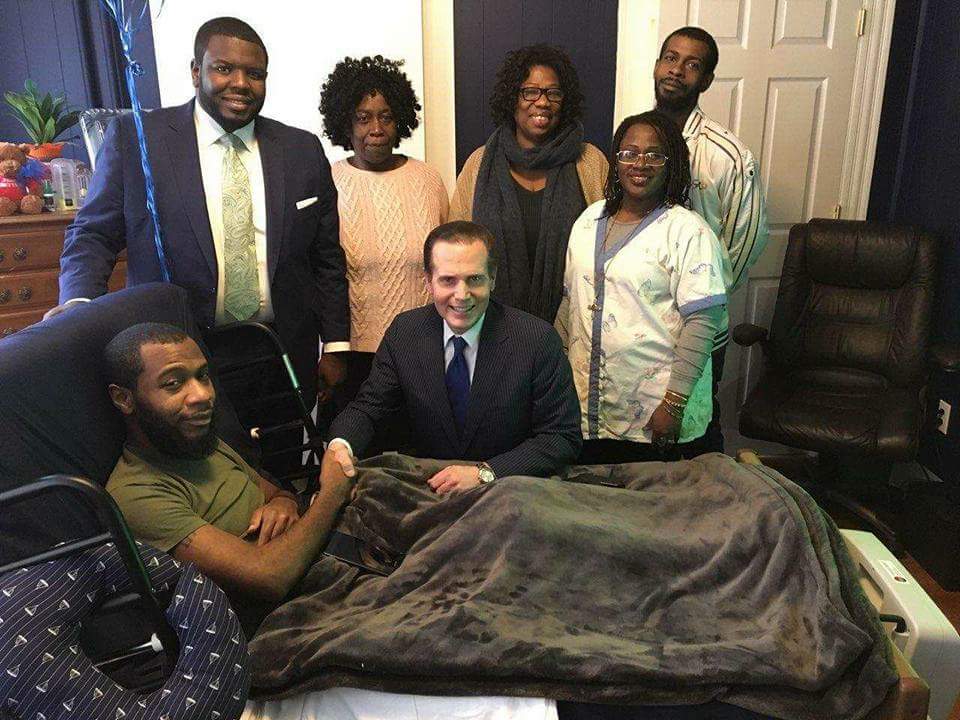 Joseph's case was referred to Lifeway by Home Access Professionals (HAP), a nationwide team of home accessibility providers. After receiving the referral, Brian Cosker, an Accessibility Consultant from Lifeway Mobility performed a free assessment of Joseph's home.
Brian also worked closely with Joseph's clinical team, which included a Nursing Care Manager, Physical Therapist and Assistive Technology Professional. This holistic approach helped Brian learn more about Joseph's physical capabilities and the mobility equipment he would be using. This information, along with an extensive home assessment, allowed Lifeway to provide comprehensive accessibility modifications for Joseph.
Joseph lives in a single-family home built in the early 1900s on a relatively small lot. Older homes with limited space can make access modifications a challenge, but experienced providers can typically find the right solutions. The primary goal of these modifications was to make Joseph's home wheelchair accessible, so that he can enter and exit, navigate the living space, and use the bathroom facilities with fewer challenges for him and his caregivers.
Working with courageous people like Joseph, his family and his clinical team is a privilege for Lifeway Mobility. We appreciate the opportunity to help make a difference in their lives and help ease the burden that daily activities can pose.
Solutions Provided by Lifeway Mobility:
Two vertical platform wheelchair lifts were installed to provide access to the front yard, back yard, driveway, and sidewalk. In case of fire or emergency, Joseph has two options for exiting the home. Lifts were used instead of wheelchair ramps due to the limited size of the lot.
Two new exterior doors were installed along with motion sensor lighting that illuminates the front and back entryway. The new doors were wide enough to accommodate Joseph's power wheelchair.
The hallways throughout the first floor of Joseph's home were widened to accommodate his wheelchair and motion sensor lighting was installed to illuminate the hallways.
The bathroom door was moved and widened to 36 inches to accommodate a wheelchair. A beveled doorway threshold was installed to allow for smooth transition into the bathroom.
A wall-mounted roll-under sink was installed to maximize space in the small 5' x 8' bathroom.
Grab bars and toilet rails were mounted by the toilet to allow for safe transfer from a wheelchair.
A barrier-free roll-in shower with a telescoping hand-held shower head, heavy duty curtain rod, grab bars, and a roll-over neoprene water dam was installed. Larger tiles were used to minimize grout lines and reduce rolling resistance.
An electric heater was installed in the bathroom to provide additional warmth for Joseph while showering.
Light and speaker systems that can be controlled by a smartphone or tablet were installed in Joseph's room, allowing him to easily control his lighting and play the gospel music he enjoys.
---