This year Gamburd Inc. (now Lifeway Mobility) broke its own record by installing the world's longest stairlift for Mary.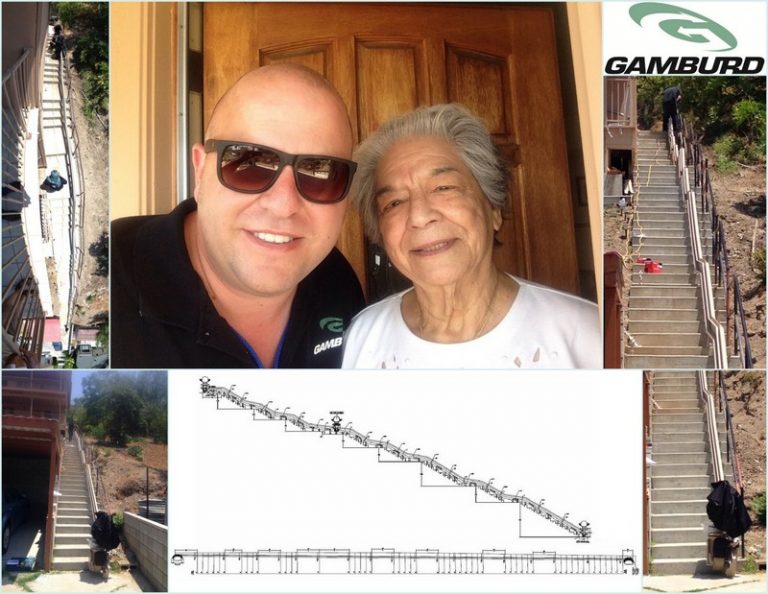 To put 102 feet into perspective, consider this: on average, a Bruno handmade custom stairlift has 4 rail sections and is 20 feet long. People often think that stairlifts are mounted to walls, but they are actually mounted to the stairs with stands. On average, about ten stands are used. Mary's outdoor stairlift used 20 rail sections and 57 stands. The rail for the lift used over one ton of steel. Even with this, we installed the entire lift in one day. Mary was instructed how to use her stairlift and taking rides before the sun set.
Below is an interview with Mary so that you can hear her story in her own words.
Hello Mary, how are you doing? How do you like your stairlift?
I'm good. I love my stairlift. I wish it would go faster!
Did you know there's a speed limit?
You are kidding. There really is a speed limit. I like to drive fast! Well, it's lot faster than the climbing. I had to stop and let my heart slow down.
What prompted you to get a stairlift?
I wanted to put it in before anyone told me I couldn't live here anymore. I built this house in '57 on this hill. I have lived here 30 years. My daughter lived here with her kids for a while. It's my home. I figure they just put me in a hospital when I can't climb the stairs. I just did it.
All my generation is all gone. Only two left. Lost most of my friends. I don't know how long I'm going to live, but as long as I can I want to take care of myself…at home.
Did you get what you wanted?
Yes. They were very good at explaining. Israel is nice. He took a lot of time answering everything. He is a nice man. He should come for lunch. You come, too!
---