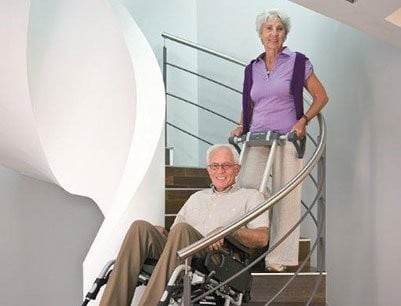 Portable Stair Climbers
Scalamobil Portable Stair Climber
Climb stairs in your own wheelchair! A perfect solution for children and adults, Scalamobil is a battery-operated portable stair climber that attaches to most manual wheelchair models. This innovative device can ascend or descend on stairs of all shapes, sizes, and surfaces.
Lifeway Mobility is a proud distributor of the Scalamobil and would love to see how it can work for you! You can also watch the video below to get a brief explains of how it operates..
Scalamobil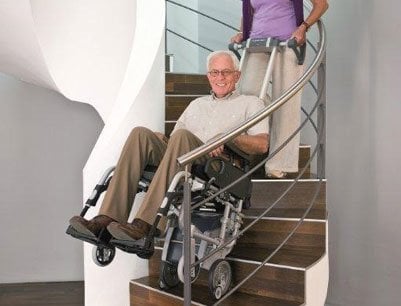 With four rotating wheels at the base of the unit, the Scalamobil moves easily up and down steps at your pace with the adjustable speed control or with a step-by-step function. Each wheel is equipped with a safety brake that automatically stops at the edge of every step*. In order for the scalamobil to work, the back chairs on the wheelchair must be removed. Climbing stairs in your own wheelchair has never been easier!
*Scalamobil must be used in accordance with the operating instructions.
Features:
Benefits
Affordable accessibility solution
Can be used for emergency evacuation to move people up or down stairs and out of the building
Requires minimal maintenance
Can be used on various stairways within a building
Can be used when electrical power fails or is not available
Easily stores in a secure area when not in use
Dimensions & Specifications
| | |
| --- | --- |
| Weight Capacity | 308 lb. |
| Climbing Speed | 6-19 steps/min |
| Range | Up to 300 steps |
| Height | 46"-63" |
| Weight | 56 lbs. |
| Width | 17"-21" |
Scalaport X7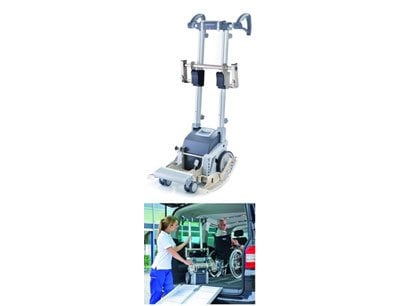 The Scalaport X7 does not require a bracket to be mounted on a wheelchair and does not require the removal of the wheelchair's drive wheels. Like the scalamobil, it makes it possible to climb stairs with a variety of wheelchairs.
Often times, the scalaport X7 is used for driving services, in special care and handicapped centers as well as in public buildings such as schools. It can also be a solution for private wheelchairs that do not allow the mounting of a bracket for scalamobil. The complete wheelchair can be attached to the scalaport X7 in seconds, and it can be folded easily for quick storage and easy transport. In order to attach the wheelchair to the X7, the two back wheels on the wheelchair must be removable.
Scalachair X3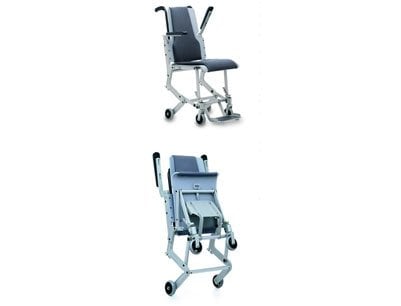 The scalachair X3 is a compact transport chair that attaches to the scalamobil and is ideal for narrow staircases when a person's wheelchair is too large. The scalachair X3 can easily be detached for use as an indoor push chair.
The scalachair X3's easy-rolling wheels make the chair easy to push and provide a secure footing to shift to another chair. The chair's cushions can also be removed so that they can be washed.
Options and Accessories:
A folding version of the X3 is available – it can be folded with just one movement, making it easy to store.
Headrests for extra comfort
Handgrips to help with pushing the chair
Lap strap or harness
Maximum weight of occupant: 308 lbs.
Scalacombi Eco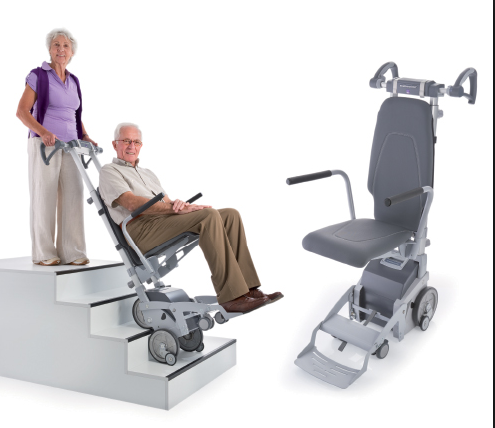 The Scalacombi Eco S34 is a chair that is built into the actual scalamobil. It can easily and safely master walkable staircases both indoor and outdoor. The scalacombi is most often characterized by its user-friendly design and handling. Its new climbing mechanism allows it to master even spiral staircases.
Important Benefits:
Accessible control elements make it easy to use
Handles with height adjustment to adapt to the height of the operator
Soft handles for a comfortable and safe grip
Minimal space required-perfect for narrow staircases
Patented comfort-gearing with soft-step feature
Optimal protection of the stairs thanks to triple-surface-protection
Is a Scalacombil Right for Me?
Most stair climbing problems can be solved with the Scalamobil. However, we want to make sure that the Scalamobil is the right solution for you. The questions listed below are important in determining if Scalamobil is suitable for your needs.
Questions for the Rider:
Are you over 265 pounds? If so, the Scalamobil may not be for you.
Are there are special needs devices mounted under your wheelchair? If so, you will need to consider the Scalachair X3 or the Scalachair X7.
Do you have a power wheelchair?
If you answered no to these three questions, the Scalamobil may be right for you. If not, you may need the X3 or X7 models or the ScalaMobil may not be right for you.
Questions for the Caregiver:
Are you in good physical condition?
Are you able to walk up the stairs backwards?
Are you able to lift 20% of your own body weight?
If you answered yes to these three questions – the Scalamobil may be right for you.
Questions for the Location of Use:
Maximum step range on one charge is 300 steps. Will this limit be exceeded?
What is the width of the staircase? Minimum distance needed is 3 feet.
Is a landing(s) present? Minimum landing space for turning is 3 feet x 3 feet.
What is the maximum step rise of any step to be climbed? Maximum step height allowed is 7.9″.
What is the depth of the steps to be climbed? Minimum step depth allowed is 4.3″.
Are the stairs in good condition? Check for deteriorating wood, crumbling cement, etc.
Will this be used indoors? Outdoors? Scalamobil should only be operated on dry steps that are clear of any debris or hazards.
---
Improve your mobility with a Scalamobile Portable Stair Climber.
Request a free home assessment today!
Request an Assessment