Stair Lift Install Provides Safe Stair Solution for Senior Couple
Posted on by Eric Rubel
Being able to feel safe and comfortable at home is going to be an important need for the foreseeable future. One way to ensure safety for those with limited mobility is to identify areas throughout the home that may pose a high risk of a fall, such as a staircase
A staircase can prevent safe access and make a home difficult and potentially dangerous to navigate for those that have limited mobility or balance issues. In the rest of this post, we will share the full story of how a CT resident, with the assistance of Lifeway Mobility, was able to keep her parents safe at home.
Mobility Challenge
Last month, a woman named Kathy reached out to the Lifeway Mobility to ask about a safe stair solution for her parents. Her mom and dad, who are both over 90 years old, could no longer safely use the stairs to reach the bedroom and bathrooms upstairs. They both wanted to remain at home, but needed a way to safely navigate between the floor levels of the home on a daily basis. Moving into a senior or assisted living facility was not a viable` solution because of the risk of being exposed to the coronavirus. In addition, Kathy's parents did not want to leave the home that they have lived in for so many years. "Home is where the heart is" for Kathy's parents!
Solution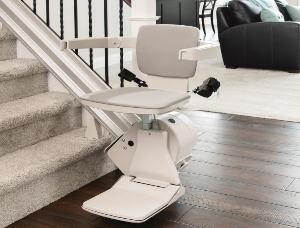 Kathy and her parents elected to go with a stair lift as it was decided that it was the quickest and and best solution. The stair lift selected was the Bruno Elan stair lift, which has a 300 lb. weight capacity and a compact profile. The arms, seat, and footrest fold up tight to the wall, leaving ample space for other family members to continue to get up and down the stairs by foot.
The evaluation process for the Bruno stair lift was done remotely, as Kathy shared photos of her parents' home, and Lifeway demonstrated the stair lift options from our showroom with a live video chat. Virtually visiting the showroom enabled Kathy and her parents to get a better understanding of how to safely operate a stair lift and made it easier to decide between the Bruno straight stairlifts that we offer.
While virtual showroom visits are still being offered, you can visit our showrooms in person by calling ahead and making an appointment.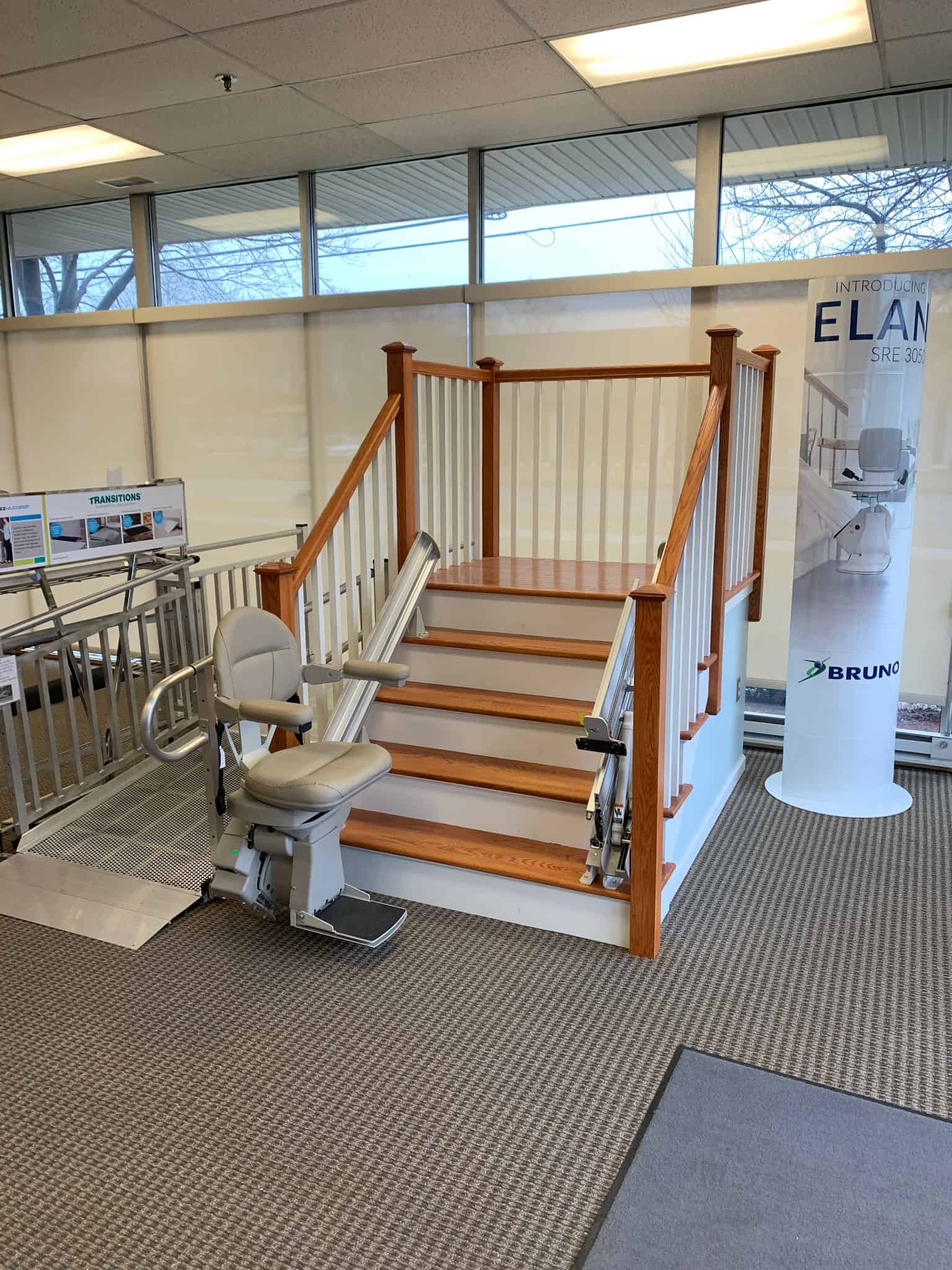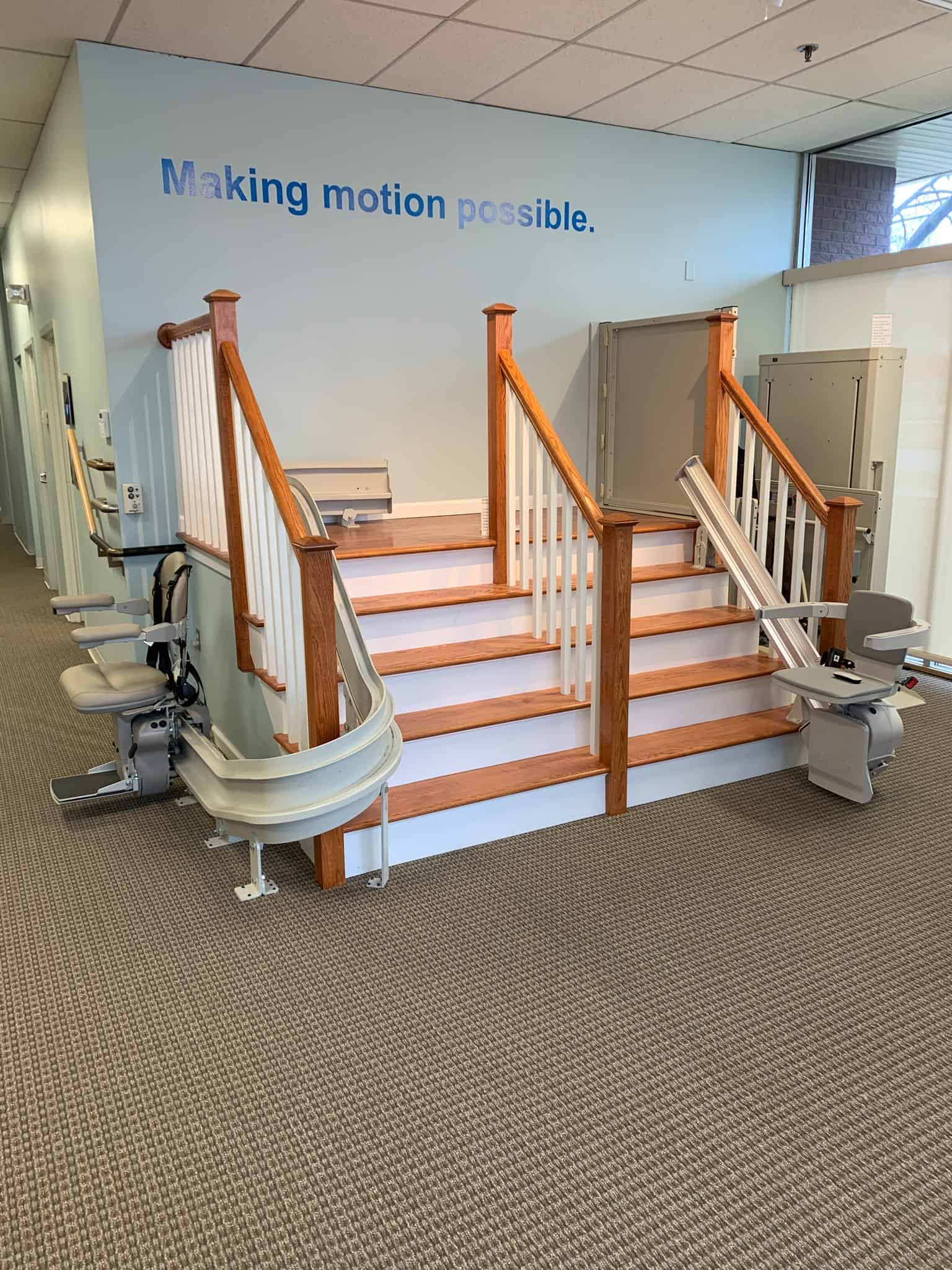 Safe No-Contact Installation
The stair lift installation was completed while keeping at least six feet away from the family at all times. The technician, Eric, completed the prep work outside, wore a mask, gloves and booties, and Kathy's parents stayed in another area of the home while Eric installed the stairlift. Once the installation was complete, Eric cleaned and disinfected the area.
Kathy's parents are now able to use their stairlift to safely get up and down the stairs, and the family has peace of mind. A few days after the lift was installed, Kathy reached out to Lifeway to express her appreciation for the quick response and personal customer service she received.
She also posted a 5* review on Lifeway Mobility's Trust Pilot page and personally thanked the Lifeway team members that helped her and her parents throughout the process.  

Schedule a Free Remote or No-Contact Stair Lift Evaluation
If you or your loved one needs help making your home safer and more accessible, your local team at Lifeway Mobility can help you safely, remotely and quickly. Please contact us to schedule a free remote or no-contact in-home evaluation.
---
---