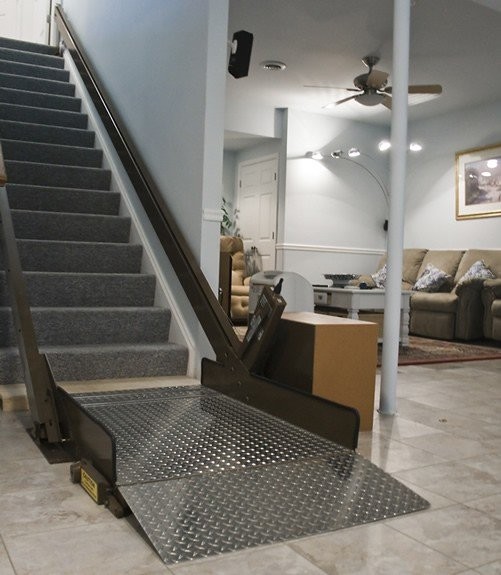 Inclined Platform Lifts
Butler Inclined Platform Lifts
Butler Inclined Platform Lifts are the perfect solution wheelchair users that needs to access multiple levels of a home. As well as ADA-compliance, our platform wheelchair lifts meet or exceed all National Safety Code (ANSI/ASME code) requirements, are V.A. approved, and have UL® and CSA certified components.
The two-rail design of the Butler Inclined Platform Lift means installation is simple and requires minimal changes to the stairway. There is no need to modify the walls, as the rails mount on the landings.
Features
500 lbs standard lifting capacity
Each wheelchair lift has an emergency stop button standard
Battery backup is standard
Optional key-operated controls provide additional safety
Slack/broken chain safety
Redundant platform safeties
Platform safety apron
Over speed governor
Upper and lower limit switches
Over travel safety switch
Safety clutch
Options
Optional lifting capacity is 750 lbs
Five deluxe color options
---
Improve your mobility with an inclined platform lift.
Request a free home assessment today!
Request an Assessment