Affordable Stair Lifts in Chicagoland
Buy or Rent - Fast installation in as little as one day!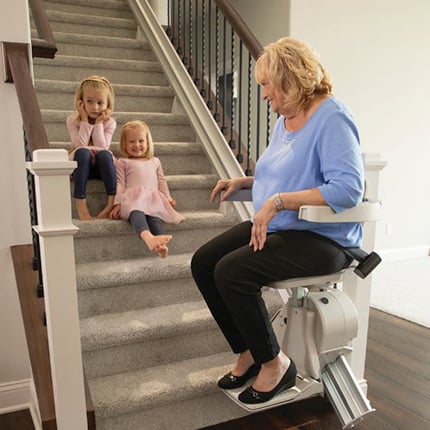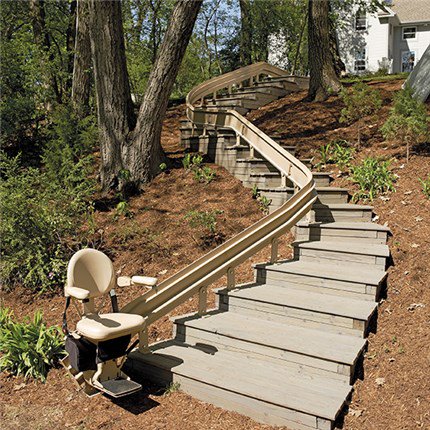 Having trouble with stairs in your home? A stair lift can solve the problem!
There's no place like home. But when your mobility is limited by age, arthritis, illness, or disability, stairs can be a serious problem, and could even force you to move out of your home. Fortunately, there's a solution. A residential stair lift can help you remain independent, give you full access to your home, and make worrying about stairs a thing of the past.
Why Choose a Stair Lift from Lifeway Mobility Chicago (formerly EHLS)?
Stairlift Showroom: We have a showroom in Arlington Heights with fully operational stair lifts available to test ride
Affordable: Payment plans for new stair lifts start at $49.50/month, certified pre-owned and rental stair lifts available
Safe & Convenient: Our stair lifts are secure, easy to use, won't block the stairway, and require no structural changes to your home
Quick to Install: In many cases, our professional installers can have your stair lift up and running within 1 day
Versatile: We have stair lifts for straight stairs, curved stairs, split levels, landings, and outdoor stairs
Made in the USA: We are a locally owned certified dealer for Bruno stair lifts, which are 100% made in the USA
Have questions? Not sure a stair lift is right for you? We're here to help!
We can come to your home, or remotely, provide a free stair lift assessment and help you choose the best option for your needs and budget. Our consultations are 100% free, with zero obligation.
Just fill out the form to the right to get started!