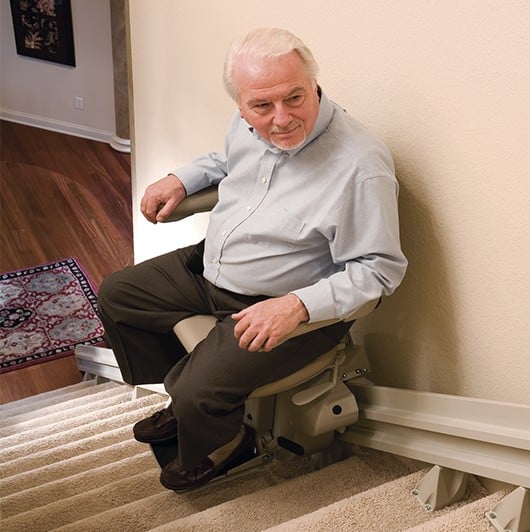 Used Stair Lifts
Used Stair Lifts in Baltimore, MD
Lifeway sells and installs high-quality, pre-owned stair lifts in great condition (subject to the availability of our inventory). If you are on a budget, a used stair lift is a perfect option for those who can no longer safely navigate the stairs at home.
Certified Pre-Owned Stair Lifts
Lifeway Mobility sells and installs used stair lifts (straight rail only) subject to the availability of our inventory.
Save up to $1,000 with a pre-owned stair lift vs. the price of a new stair lift installed.
The used lifts that we offer are Bruno straight rail stair lifts, which are certified pre-owned.
Warranty coverage provided on the parts and components of the lift, and labor
We do not offer used curved lifts because the rails for curved stair lifts must be custom built to fit each individual staircase.
Used Stair Lift Pricing
These pre-owned units are in great condition and can be purchased at a discount compared to the price of a new stair lift. The cost of a new stair lift, typically starts somewhere in the $3,000 range plus installation. The price range of a used stair lift is $2,000-$3,000+. Pricing and the amount of money you'll save when choosing a used stair lift over a new one is dependent on a number of different factors such as year, make, model, and upgrade options.
Please contact us for more details on pricing and used options.
Installation for Used Stairlifts
Lifeway's factory-trained technicians will install the used stair lift and provide you with training on how to properly use it.
Rails are mounted to the treads of the stairs and will not do any damage to the walls in your home.
We can often install a used stair lift in your home within one day after purchase and will accommodate your schedule.
Don't let the stairs become an obstacle in your home any longer. The addition of a stair lift from Lifeway Mobility will provide a safe and easy way to navigate between the floor levels of your home! Contact us today to learn more about the availability and pricing of a used stair lift.
---