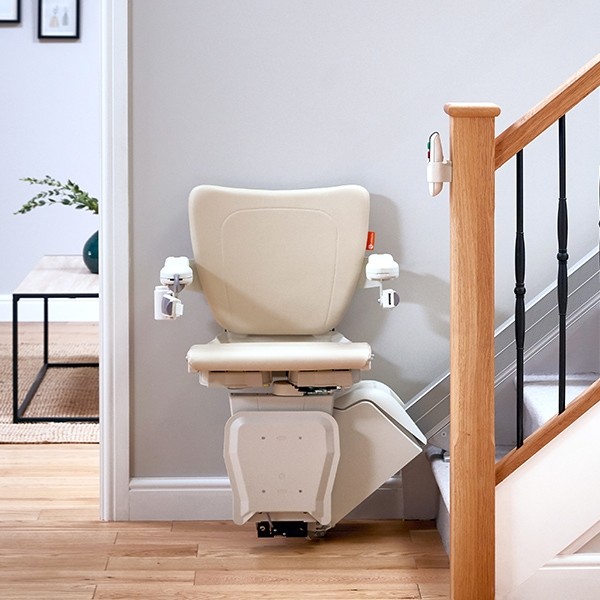 Straight Stair Lifts
Handicare 1100 Straight Stairlift
Handicare's 1100 Straight Stairlift from Lifeway Mobility can help you regain your independence and remove the obstacle of climbing the stairs at home. The 1100's Patented Multi-Drive System ensures that your stairlift is operating at its best every time you use it. Its modern design allows it to seamlessly blend right in with the design and décor of your home
Installation
Timely stair lift installations to accommodate your schedule.
Rails are mounted to the treads of the stairs and do not require a wall for support.
Removal of the unit and track leaves minimal footprint.
Stair lift buy back program available.
Features
Components folded up

Foldable components (seat, armrests, & footrest) maximize space for others to still use the stairs
Manual or powered 80-degree swivel seat for safer transfer onto and off the lift
Ergonomic and intuitive to use, the joystick on the armrest smoothly operates the 1100
Multiple safety sensors will stop the lift immediately should anything be in its path
Continuous charging function along rail
EasyGlide technology ensures smooth ride and gentle stop

seat belt

Vanilla beige leatherette finished seat for easy cleaning
Two remote controls included
Battery backup in the event of a power outage
Textured grip footrests allow for greater traction
Easy-to-use retractable seat belt provides added security when safely seated on chair
Key switch prevents unauthorized use
Four brush heads on rail constantly sweep away dust and hair from it
Tech Specs
Weight Capacity: 309 lb.
Slim Profile of 12.6 in when folded
Speed: .5 ft/sec
Seat Depth: 15.4"
Options
---