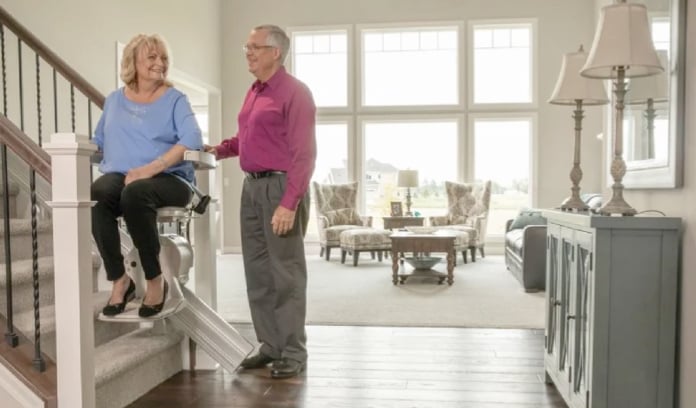 Stair Lift Resources
When your mobility changes, navigating the stairs can be a challenge—and your house may not feel like home anymore. Whether your stairs are indoors or out, curved or straight, with landings or without, there's a stairlift option that can give you back your independence and help you stay in the home you love. Learn more about the many available options, and what you can expect throughout the process.
Featured FAQs
What is a stair lift?
A stair lift is a motorized chair that travels along a rail that is mounted on a straight or curved staircase. It operates on battery power and uses a rack-pinion drive system to provide a safe and easy way to get up and down the stairs for those with limited mobility. A stair lift is also commonly referred to as a chair lift, stair chair lift, stairway lift, or stair glide. No modifications are required to the structure of the home for installation.
How is a stair lift powered?
A stair lift is a battery powered chair that glides along a rail system that is mounted to the treads of a staircase. Stair lifts are battery-powered for maximum safety and come equipped with a charger that plugs into a 110 volt outlet. The lift being battery powered means that it will work even during a power outage.
The lift will charge when not in use at the top and bottom landing of a staircase. If you choose a Bruno straight stair lift, the lift will charge regardless of it's location on the staircase as it has a charging strip that runs through the entire rail.
Who needs a stair lift?
Each person is different, but when the stairs become a struggle, or you feel unsafe, it's a smart idea to look into a solution that can make the stairs safer to use, such as a stair lift. Better to be safe than sorry as a fall on the stairs can lead to a serious injury.
View All