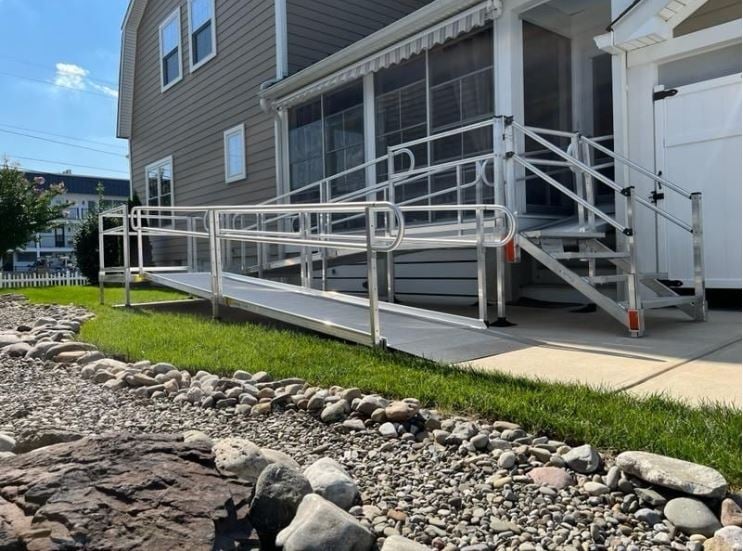 Wheelchair Ramp Resources
Whether your needs are permanent or temporary, a ramp can provide the safe, convenient access you require. But maybe you're worried about the installation time, cost, maintenance, or aesthetics of a home ramp. We hear you—and we've gathered a variety of resources to show you how a ramp can fit right in to your home.
Wheelchair Ramp Resources:
Featured FAQs
How much does a wheelchair ramp cost?
There is not a simple answer to this question because the price of a ramp depends on the length, material, and upgrade options. The prices listed below are estimated ranges, but our suggestion is to schedule a free in-home evaluation to get a better idea of how much the ramp you would need would cost.
Threshold ramps: $35-$140 range for aluminum, $94 - $150 range for rubber
Portable folding ramps: $99 - $520 range for aluminum, $460 - $1,000 range for lightweight graphite fiber
Residential modular ramps: Prices depend on the length of the ramp and the angle of slope. See our Residential Modular Aluminum Ramps page for more information and sample ramp pricing.
Commercial modular ramps: Please see our Commercial Aluminum Ramps page for more information, and fill out the form on that page for a free site evaluation and pricing.
Rental wheelchair ramp options available in select locations. Contact us for more information on our monthly rental program.
Will health insurance policies or Medicare pay for a wheelchair ramp?
Unfortunately, most health insurance policies and Medicare plans will not pay for a wheelchair ramp. A ramp can be considered as a medically necessary piece of equipment, but unfortunately, Medicare does not mark it as an item that would directly treat a medical condition.
What type of wheelchair ramp material is best?
There is not one type of material that is the "best" for ramps, but we often suggest aluminum because of the benefits that it has over wood and concrete. Aluminum wheelchair ramps are least expensive, can be installed within days, and require little-no maintenance. There are also a variety of surface materials to choose from.
View All