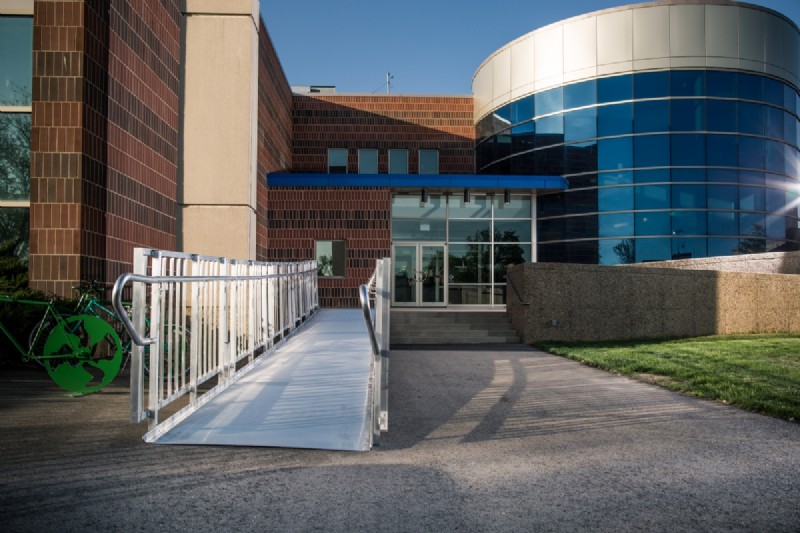 Commercial Wheelchair Ramps
Commercial Wheelchair Ramps in Cincinnati, OH
There are many ways in which commercial wheelchair ramps can improve the safety of your business or facility. Available in a variety of styles and sizes, our ADA-compliant ramps can make your commercial property accessible for all visitors or patrons. Commercial ramp systems serve all individuals equally, including those with limited mobility who are in need of a wheelchair, crutches, scooter, walker, or cane. Wheelchair ramps can also reduce falls, which in turn decreases liability.
Commercial Wheelchair Ramp Benefits
Commercial wheelchair ramps can provide safe and easy access for all visitors, regardless of their mobility needs.
ADA compliant
Commercial-grade aluminum
Continuous handrails for safety
Adjustable heights and slopes available
Strong, durable, rust-free construction
No maintenance necessary – an excellent alternative to high-maintenance wood ramps
In-stock options available
Professional, timely installation within days
Affordable options (new, short-term rental, rent-to-own, and used)
Applications
Modular ramp systems can be purchased and installed for municipal buildings, such as schools, universities, churches, museums, arenas, and restaurants. Commercial wheelchair ramps can be rented for events or temporary needs, such as graduations. On construction sites, modular aluminum ramps can offer a temporary yet safe accessibility solution for workers and patrons alike.
Our ADA-Compliant Commercial Ramps Include:
Modular ramp systems
Custom aluminum ramps (solid, mesh, or powder-coated to match the aesthetic of your building)
We offer a wide range of commercial-grade, ADA-compliant portable and modular ramps that can be customized for your needs. Affordable options include new, short-term rental, rent-to-own, and refurbished. Lifeway Mobility can visit your site and make recommendations on the wheelchair ramp that will fit your needs, building style, and site conditions. Our CAPS- and CEAC-certified team offers professional, in-person accessibility evaluations and timely installations.
Pricing
Lifeway stocks both new and used wheelchair ramps for commercial applications. Please call or fill out the form below for a free site evaluation and pricing.
Need to rent a wheelchair ramp for temporary use? Lifeway Mobility can install the best ramp for your application and then we'll pick it up when no longer needed.
---