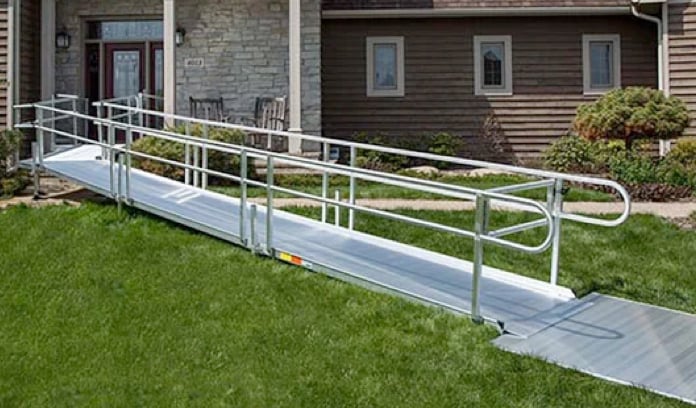 Wheelchair Ramp Resources
Whether your needs are permanent or temporary, a ramp can provide the safe, convenient access you require. But maybe you're worried about the installation time, cost, maintenance, or aesthetics of a home ramp. We hear you—and we've gathered a variety of resources to show you how a ramp can fit right in to your home.
Wheelchair Ramp Resources:
Featured FAQs
Can I rent a wheelchair ramp?
Yes, Lifeway does offer rental wheelchair ramp options. A rental is also a great choice when it is unknown how long the lift is going to be needed. For example, if you or your loved one had surgery and need to use a wheelchair or knee walker temporarily, a rental ramp would be perfect. If it is decided that the rental ramp is needed long-term, there is a rent-to-own purchase option.
Visit our wheelchair ramp rental page to learn more about how our rental program works or please feel free to call us at (320) 270-7060 for more information.
Can I sell a ramp back to you when I no longer need it? How much will I get for it?
Yes! The amount we pay varies based on use, condition and age.
How do I know if I should have a wheelchair ramp or lift installed to overcome the stairs outside of my home?
The number one factor that helps determine whether you'll need a wheelchair ramp or lift is the amount of space that's available for an installation. For a wheelchair ramp, you'll need one foot of ramp per inch of rise, which can turn into a very long and winding ramp if the entryway is high off the ground. The other thing to consider is the mobility of the individual in need of the accessible solutions. If you or your loved one cannot safely maneuver up the ramp alone, then a lift is going to be the better solution.
View All