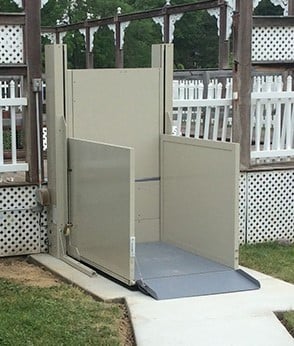 Outdoor Wheelchair Lifts
Savaria M2Lift Outdoor Vertical Platform Lift
The Savaria M2lift is a vertical platform lift that can accommodate wheelchairs and other mobility equipment for safe home access and egress. Built specifically for outdoor use, the M2lift has rust-resistant aluminum components that allow it to look and perform great, even in colder climates.
Features
Rust-Resistant Construction:
Aluminum components provide rust resistant "car" walls and floor
Non-skid platform floor with an exit ramp
Standard finish: Beige powder-coat paint
Quick and Easy Installation:
42″ high aluminum flush upper landing gate with a weather resistant lock and spring-hinge
Integrated aluminum panel for a finished look without custom construction
Upper landing bridge provides a smooth entry and exit for wheelchair and powerchair users
Battery Operated:
Provides a smooth and quiet ride
Lift is charged through a standard outlet, which allows for it to be used during a power failure
Safety Features:
Underpan sensors that will stop the lift if an obstruction is detected
Emergency stop button and alarm
Slack chain safety switch
Warranty:
Technical Information:
Weight Capacity: 750 lbs.
Min-Max Travel Distance: 12″ minimum & 75″ maximum with 2 stops
Size of Platform: 37″ x 54″
Speed: 10 ft/min
Options
Lifting/Tower Heights:
40″ (tower 79.5″)
60″ (tower 99.5″)
75″ (tower 114.5″)
All lifting/tower heights have the same 750 lb weight capacity.
Downloads
Photo Credit: Savaria
---
Improve your mobility with a vertical platform lift.
Request a free home assessment today!
Request an Assessment