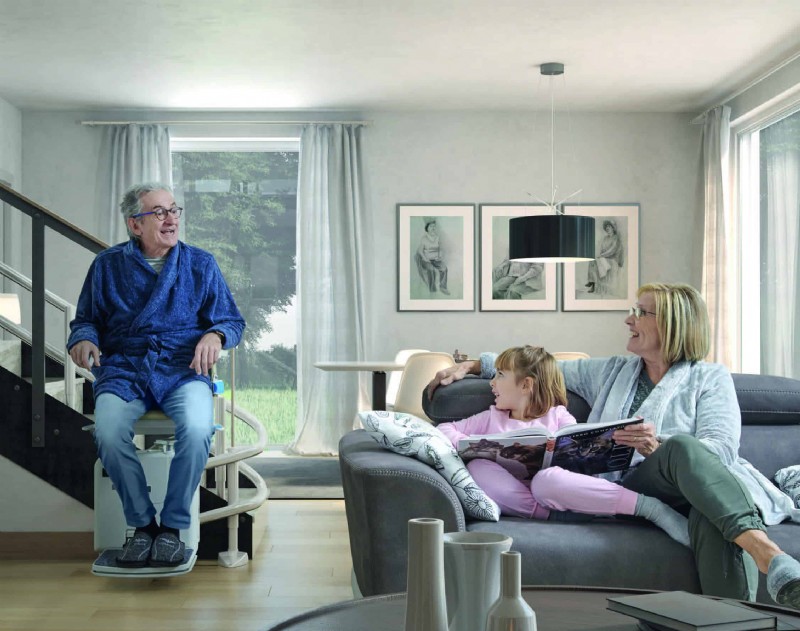 Curved Stair Lifts
Handicare 2000 Curved Stair Lift
The Handicare 2000 curved lift is custom designed to be comfortable, easy to use, provide a snug fit against the wall, and it has an aesthetic appeal. Manufactured from durable, weather-resistant materials, the 2000 can be installed indoors or out. No other curved track available in the industry can be fitted closer to the wall, which is beneficial because of the extra space it leaves on your staircases.
Installation
Designed and manufactured to fit your specific staircase, which insures a perfect fit and maximizes space on the stairs
Twin-rail system is mounted to the treads of the stairs and does not require a wall for support.
Track leaves minimal footprint when removed
Features
Handicare's versatile 2000 rail system will fit almost any staircase, no matter how complex—ensuring you can remain mobile in the home you love.
Manual swivel seat

for safer transfer onto and off the chair at top landing
Foldable components

(seat, armrests, & footrest) maximize space for family and friends to go up and down the stairs

Ergonomic and intuitive to use, the joystick on the armrest smoothly operates the 2000 stairlift
Multiple seat and upholstery choices to seamlessly blend the chair with the design and color scheme of your home
Equipped with two remote controls as standard, so you can have one upstairs and one downstairs.
Battery backup

in the event of a power outage
Multiple safety sensors stop the stairlift immediately should it meet an obstacle during travel

Easy-to-use retractable seat belt

provides added security when safely seated on chair
Robust manufacturer's warranty on major components
Labor warranty provided by Lifeway Mobility
Tech Specs
Weight Capacity: 255-302 lb.
Speed: .5'/s
Seat Depth: 14.25"
Folded with footrest: 15.75"
Armrest width (internal): 17.75"
Options*
Power Swivel Seat
Powered Hinge (Folding Rail)
Outdoor Package
Commercial Package
Heavy-Duty Kit (302 lb. weight capacity)
Powered Footrest
Four Seat Types -- Standard, Smart, Style, and Perch (see below)
Body Harness
Rail Color Upgrade
*Not all options listed above are available for all seat types
Seat Types
Smart Seat

Handicare's smart seat offers an endless range of options and upgrades compared to the other seat options.

Colors Available: Ruby, Cacao (pictured), Sand, Sapphire, Slate or Jade

Options Available to added: powered swivel-seat, powered footrest, heavy-duty kit, outdoor kit, body harness

Style Seat

The Smart seat offers a polished, modern look, and was also built for comfort.

Colors Available: Cherry Red (pictured), Ivory White, or Vanilla Beige

Options Available to added: powered swivel-seat, powered footrest, heavy-duty kit

Download Style Seat Dimensions

Simplicity Seat

The Simplicity seat offers a more classic look in a standard leatherette sand-colored finish. It is the entry level seat for budget conscious customers that offers a safe and comfortable ride.

Colors Available: Sand

Options Available to added: powered footrest, heavy-duty kit
---
Improve your mobility with a curved stair lift.
Request a free home assessment today!
Request an Assessment