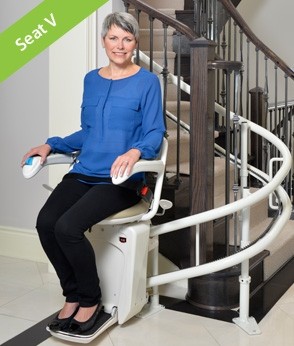 Curved Stair Lifts
Savaria Stairfriend Curved Stairlift
The Savaria Stairfriend curved stair lift provides a safe and easy way to access all floor levels of a home. The Stairfriend is designed for staircases that have curves, turns, or intermediate landings. Savaria's Stairfriend has a dual-rail design that is custom built to fit the exact specifications of your staircase. The lift is very easy to operate and offers a smooth, and comfortable ride up and down the stairs. While most often installed in residential settings, the Stairfriend can be added in a commercial or public building if permitted by local codes.
Installation
Computer-aided rail design software and photo measurement system allows for a custom-built rail and provides industry leading turn-around times
Dual steel tube rail construction can be easily mounted on either side of the staircase
Features
Weight Capacity: 350 lbs.
Choose between two seat options to fit your specific needs, whether it be comfort or design
Easy to use controls with a soft and smooth start and stop
Swivel seat that locks into place to enhance safety when getting on or off the lift
Obstruction safety sensors to stop the lift if there is an object detected in its path
Battery powered motor allows the lift to operate in power outages and charges at the top and bottom landings, with an option for charging at an intermediate landing
Options
Choose between two seat designs to fit your comfort needs
90- or 180-degree park for when the staircase ends in a heavy foot-traffic area of the home
Top or bottom rail overrun to enhance safety at to the top and/or bottom landings
Miscellaneous safety options to ensure maximum safety
Downloads
---
Improve your mobility. Request a free home assessment today!