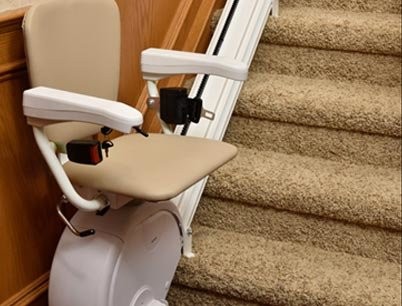 Straight Stair Lifts
Savaria K2 Straight Stair Lift
The Savaria K2 stairlift operates on a battery-powered system with built-in charging, allowing the lift to operate several times even during a power failure. It has a folded size of only 10.75—the smallest profile on the market to keep the lift out of the way when not in use.
Features
350 lb. standard weight capacity (For a stair angle greater than 45 degrees, the max capacity is 300 lb.)
Quiet and smooth ride
Battery-operated
Safety Features: Swivel & lock seat at top of stairs, retractable seat belt, anti-slip footrest, and obstacle sensors
2 infrared remote controls, plus toggle switch on arm rest
Adjustable arms up to 20? wide
Options
Flip-up rail for bottom landing
Can be installed on either side of the stairs
Rail extension brackets: to create no intrusion at top landing
Continuous charge system
Emergency stop button and radio frequency remote controls
Downloads
Photo Credit: Savaria
---
Improve your mobility with a stair lift. Request a free home assessment today!