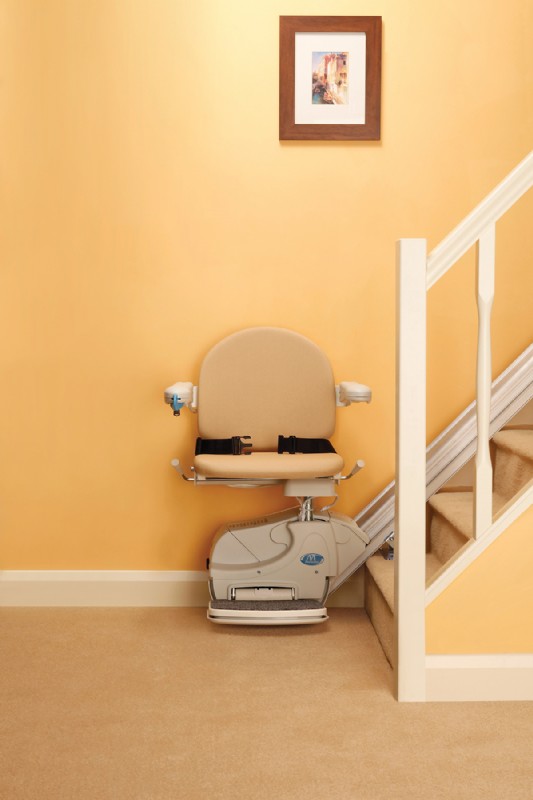 Straight Stair Lifts
Handicare 950 Simplicity Straight Stair Lift
The Handicare 950 Simplicity combines the continuous charge track of the Simplicity series with the seat of the 1000 model. With the Handicare 950, you'll have a quick, safe and easy way to navigate the stairs.
The Simplicity Series track offers a continuous charge function meaning that the lift can be parked on any part of the track when it is not in use. This means you do not need to worry about where you leave your lift on the track as the batteries will charge at any spot on the rail.
The Simplicity Series stair lifts are compatible with the Slide Track and manual hinge systems, so if you have a doorway close to the bottom of your stairs the Simplicity offers a range of solutions to prevent the track from causing an obstruction.
Features
Weight Capacity: 310 lb weight
Upholstery: Wipe-clean, flame-retardant fabric available in six colors (Shown here: Sand)
Footplate and Seat Swivel: Manual and powered options
Safety sensors on the power pack and footplate designed to stop the lift if it meets any obstruction. Once stopped it can only be moved in the opposite direction of the obstruction.
An easily accessible key switch allows you to disable the lift and prevent unauthorized use, so you do not need to worry about unsupervised children playing with your stair lift.
Ergonomic toggle control was designed with the input of occupational therapists to make the lift easy to use for those with common joint problems, such as arthritis
Covered by a manufacturer's warranty
Seat Options
Smart Seat: The seat is supplied with wipe-clean, flame-retardant upholstery in a choice of six colors. You can even replace the upholstery later should you wish to change your color scheme.
Perch Seat: The perch seat is an ideal option for users with limited hip and knee flexibility. A perch seat puts the user in an almost-standing position when using the lift. There is a shortened seat and retractable seat belt, which provide a stable support area for users to 'perch' on.
---
Gallery
---
Improve your mobility. Request a free home assessment today!