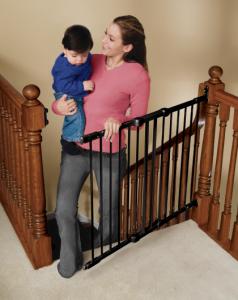 Childproofing
Safety Gates
To make your home environment as safe as possible for your little ones, Lifeway Mobility offers a comprehensive assortment of child home safety products, including safety gates.
Lifeway Mobility Indianapolis is dedicated to helping our local customers create safer homes so that children can safely explore, learn, and grow. Our services include walk-through home assessments to identify areas of potential hazard, a wide array of affordable home safety products and professional installation of those products. All of our home safety products and solutions are installed and serviced by our own technicians.
Safety Gates
Strategically placed gates can make your life a little easier—and give you peace of mind that your child will be safe from potential hazards, such as stairs, fireplace, or other unsafe areas. Lifeway offers a several types of safety gates that will keep your young ones out of harms way in your home.
Gate Types
Hardware-mounted gates are bolted to the walls of your home. They're appropriate where there's a chance of your child falling, such as the top of a stairway, indoors or out.
Pressure-mounted gates simply press on opposing walls. They should be used only where falling isn't a hazard, such as between two rooms or to discourage climbing up stairs. They are not secure enough to use at the top of stairs.
Custom-fit gates and fencing can be installed to enclose unsafe areas, such as fireplaces.
Free-form gates and fencing can be used indoors to enclose your child in a safe play area.
Safety gates are intended for children between 6 months and 2 years. They should not be relied upon as a safety device once a child learns to climb over and/or open them. Gates are no substitute for careful supervision of your child. You should never leave your child unattended.
---
Gallery
---
Improve your mobility with safety gates. Request a free home assessment today!