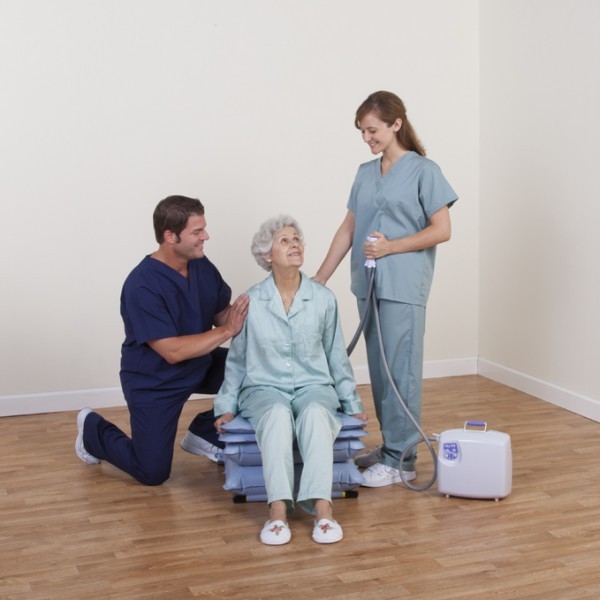 Repositioning Aids
Elk Emergency Lifting Cushion
An inflatable fall recovery and patient lifting device.
Designed by Mangar, the Elk is a moving and handling product designed specifically for helping a loved one, resident, or patient up off the floor from a fallen position. Incredibility compact and lightweight, the Elk's powerful battery-operated inflatable cushion can safely and securely lift up to 1000 lbs.
Because accidents happen quickly and unexpectedly, the Elk's unique and easy-to-use design can be operated by the caregiver, Emergency Medical Technicians, or independently. To avoid further causing harm to the fallen individual, one can shuffle onto the cushion or can be rolled by a caregiver from the recovery position to an assisted sit upright position. From here, the Elk is inflated at the touch of a button, while the caregiver supports the individual from behind until full inflation of the chair. Once the lift is complete, the Elk can be deflated, folded up and stored away tidily.
When an accident occurs, be prepared with the Elk.
Product Highlights
Can be used by caregiver or independently
Portable and lightweight
Folds up for easy carrying
Battery operated for use anywhere—indoors or outside
Especially useful in confined spaces
Safe for the person being lifted as well as the caregiver
Technical Specifications
Lifts up to: 1000 lbs (450 kg)
Inflated height: 56.5 cm
Inflated width: 57 cm
Inflated depth: 50 cm
Deflated folded dimensions: 62 cm x 26 cm x 11.5 cm
Weight: 3.6 kg
---
Improve your mobility. Request a free home assessment today!